Budget: Lebanon sees GDP growth easing to 4 pct in 2011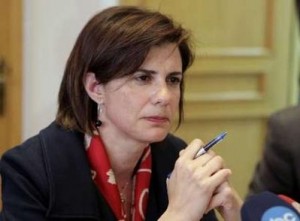 Lebanon forecasts its economy will grow 4 percent in 2011, slowing from an expected 4.5 percent expansion this year, according to a draft budget circulated by the finance ministry on Monday.
The ministry also said it expected its budget deficit to fall to 9.9 percent of gross domestic product next year, from an estimated 10.7 percent this year, while inflation will drop to 3.2 percent by the end of 2011.
Inflation, which peaked at 14 percent in 2008 and remained between 1.5 and 4 percent in 2009, stood at 4.5 percent year-on-year in March when price levels were largely inflated by increases in transport costs and utility charges.
Finance Minister Rayya Hassan has said economic growth could be as high as 8 percent in 2010 if structural reforms and long-stalled privatization plans are implemented.
"Preparing the 2011 budget is based on the policy of cutting spending … for the purpose decreasing the deficit and minimizing the public debt," the ministry said in its circulation to other ministries.
Hassan had increased spending by 14 percent in this year's budget, which focused mainly on social and health care where spending increased by 24 percent after years of belt-tightening, and on the power sector where spending rose by 27 percent.
Lebanese economy largely shrugged off the effects of the global financial crisis and economic downturn, growing 9 percent in 2009. The 2011 draft budget projects GDP at $40.081 billion, of which 10.4 percent will go to debt servicing, the ministry said.
Lebanon is one of the most highly indebted countries in the world ( based on debt to GDP ratio) with public debt expected to rise to $55 billion in 2010 from $51 billion in 2009.
Moody's Investors Service upgraded Lebanon's sovereign ratings in April by one notch to B1 from B2, citing sustained improvement in external liquidity, the banking system's strengthened ability to finance the deficit and the formation of a new government.
Privatization is a key bone of contention in Lebanon with government plans to liberalize the telecoms and electricity sectors long opposed by some powerful political leaders.
The Lebanon's cabinet has yet to approve the 2010 draft before it is sent to parliament. Reuters