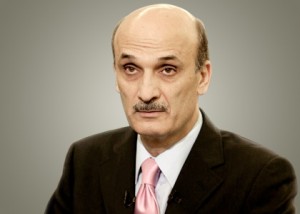 In an interview with Kuwaiti daily al-Rai to be published Tuesday, Lebanese Forces leader Samir Geagea stressed said "mistaken are those who believe that the political balance of power in Lebanon has witnessed a dramatic change.
"It is true that some changes have taken place, but they are not sufficient to speak of the majority turning into a minority or the opposite. Hence, I consider that all the talk about changes to the Cabinet in Lebanon aims at political and psychological pressure and at pushing the political atmospheres into tension."
"Thinking of any changes to the Cabinet at the moment resembles complete suicide, " Geagea stressed
Geagea on the other hand warned that the region is currently living the last quarter-hour before the storm," adding that Lebanon can avoid it "through placing the strategic decision (of war and peace) in the hand of the government — and no one else."
Geagea welcomed PM Saad Hariri's forthcoming visit to Washington and warned about targeting it "for the sake of regional interests," . He was referring to March 8 alliance criticism of the trip , similar to the criticism the Lebanese president faced prior to his US trip.
Geagea also welcomed the visit of Kuwaiti Emir Sheikh Sabah al-Ahmed al-Sabah to Beirut and said " it comes within the context of a long track of Lebanese-Kuwaiti ties, which have not been marred by any defects over the years."
Geagea described the Lebanese-Kuwaiti relations as "exemplary."
In a question abut Hezbollah Geagea said that the time "may not be appropriate to talk about Hezbollah's arms but stressed that if their command moves to Beirut, rather than Tehran or Damascus, that alone can make us cross more than half the way toward avoiding the storm."
This error message is only visible to WordPress admins
Error: No connected account.
Please go to the Instagram Feed settings page to connect an account.