Venezuelan gas platform sinks in Caribbean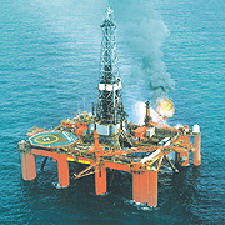 An offshore natural gas platform has sunk in the Caribbean Sea but poses no threat to the environment, Venezuela's oil minister says.
Rafael Ramirez told state television that authorities are trying to determine what caused the sinking of the Aban Pearl platform off eastern Sucre state at 2:20 a.m. local time Thursday.
Problems with the platform's flotation systems caused a massive water leak in one area, he said, though officials continue to investigate.
Alarms went off three hours before the sinking, giving the 95-member crew time to escape. Three workers, including the captain, stayed behind until it was clear that the semi-submersible platform was at risk of collapsing, when they abandoned it, Ramirez said.
The rig was operating in waters about 160 metres deep.
The sinking of the gas rig posed no apparent threat to the environment because a tube connecting the rig to the gas field was disconnected and safety valves shut, officials said.
"There's no problem of any sort, of any leak from the field into the environment," Ramirez said.
The exploration platform at the Dragon 6 gas field was operated by the state energy company Petroleos de Venezuela SA.
President Hugo Chavez said in a message on Twitter that two navy ships were sent to patrol the area.
Specialists will now use one of the robots on a separate drill boat to inspect the underwater structures that supported the platform to try to determine what went wrong, Ramirez said.
Venezuela, a major oil exporter and OPEC member, is exploring offshore natural gas fields that are among the biggest-known deposits in the world.
A massive oil slick in the Gulf of Mexico is still growing after a BP-leased drilling rig exploded on April 20 and sank. CBC