Iraq: New al-Qaida leader vows to continue deadly attacks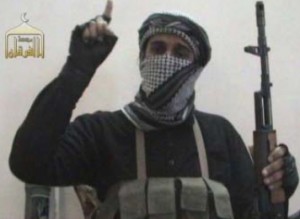 Iraqi al-Qaida group has nominated its new leader called "minister of war" and vowed to continue deadly attacks with "dark days in blood color," said a statement posted on a militant website on Friday.
The so-called "minister of war" of the Islamic State of Iraq was identified as al-Nasser Lideen Allah Abu Suleiman and he will replace Abu Ayyub al-Musri, who was killed in a military operation by Iraqi and U.S. forces last month.
Abu Suleiman declared in the statement that his group has already launched a new wave of fresh attacks against Iraqi security forces and Shiites, saying his men would bring "a long gloomy night and dark days with blood color."
Musri, also known as Abu Hamza al-Muhajir, was the top leader of al-Qaida in Iraq network, who replaced former al-Qaida leader Abu Musab al-Zarqawi after his death in a U.S. airstrike on June 7, 2006.
Abu Omer al-Baghdadi, the head of the self-style Islamic State of Iraq, which is an al-Qaida-led umbrella organization of extremist Sunni militants groups, was also killed during the operation along with Musri.
Both Iraqi and U.S. officials said the killing of the two men dealt a big blow to al-Qaida in the war-torn country. However, major attacks continued across the country, leaving hundreds dead in the past several weeks. Xinhua