Amnesty tells Israel to stop 'harassing' Palestinian activist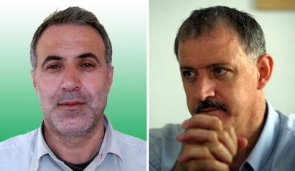 Amnesty International called on Israeli authorities on Wednesday to end what it called "harassment" of an Arab human rights activist held on suspicion of spying for the Lebanese Hezbollah militia.
Amnesty said Ameer Makhoul, an Arab citizen of Israel, has been denied legal advice while in custody.
The Israeli Prisons Authority referred an AFP query on his situation to the Shin Bet security service, who could not immediately be reached for comment.
"His arrest and continued detention smacks of pure harassment, designed to hinder his human rights work," an Amnesty statement said. "If this is the case, we would regard him as a prisoner of conscience (and) call for his immediate and unconditional release."
Makhoul was arrested last week by police and Shin Bet agents in a raid on his home in the northern port city of Haifa.
Another Israeli Arab man, Omar Sayeed, also accused of spying for Hezbollah, was arrested on April 24 but news of the two cases was blacked out by a court order that was lifted only on Monday.
Makhoul, whose brother Issa is a former Israeli Arab lawmaker, heads Ittijah (the Union of Arab Community-Based Associations), a group that fights discrimination against Israeli Arabs.
"Ameer Makhoul is a key human rights defender, well-known for his civil society activism on behalf of the Palestinian citizens of Israel," said the statement from London-based Amnesty.
Israel's 1.3 million Arab citizens are Palestinians who remained in the Jewish state after the 1948 Middle East war that followed its creation and their descendants.
In 2006, Israel and Hezbollah fought a devastating war which killed more than 1,200 Lebanese, most of them civilians, and more than 160 Israelis, mostly soldiers. AFP