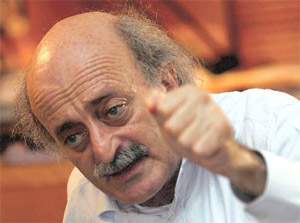 Progressive Socialist Party leader MP Walid Jumblatt has criticized MP Marwan Hamadeh and his brother Ali Hamadeh without naming them, accusing them of adopting double standards .
In his weekly editorial, Jumblatt said "political lying is not acceptable," pointing to those adopting "double standards rather than clarifying and settling some issues."
"If some people want to slip into the past … we want to look toward the future and open up a new phase," Jumblatt wrote.
Commenting on Jumblatt, the daily aL-Akhbar on Tuesday said the PSP leader's remarks were an indirect response to comments made by Marwan Hamadeh in a radio interview last Saturday on the May 7 events.
Jumblatt, al-Akhbar wrote, was also criticizing Hamadeh's younger brother, Ali, for an article he wrote in which Jumblatt accused him of adopting a double standard.
Al-Akhbar said that in addition to what MP Hamadeh said about the relationship with Jumblatt, he told the Voice of Lebanon radio station that he does not fear a recurrence of the May 7 events "because we were able to overcome a lot of things."
Hamadeh has described President Michel Suleiman's statement on the need to keep Hezbollah arms in light of Israel threats as "a good opinion."
"There is a beginning and an end, however, for weapons, provided they are not to be used to provoke any side," Hamadeh has said.
"Beirutis did not and will not forget May 7," Marwan stressed.
Jumblatt's U-Turn has angered many of his allies within his own Democratic Gathering bloc . According to observers his continued criticism of UN Resolution 1559 is considered a direct attack against MP Marwan Hamadeh who is considered the father of this resolution. Hamadeh miraculously survived an assassination attempt as a result of this resolution in 2004. The resolution called for disarming the militias in Lebanon. Naharnet /Ya Libnan
This error message is only visible to WordPress admins
Error: No connected account.
Please go to the Instagram Feed settings page to connect an account.