Harrods sold to Qatar Holdings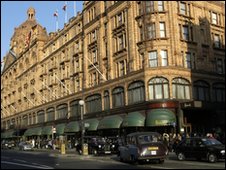 The department store Harrods has been sold for a purchase price of about £1.5bn, the BBC can confirm.
Owner Mohammed Al Fayed has agreed to sell the exclusive west London store to Qatar Holdings.
Ken Costa, who acted as an adviser to the deal, said that Mr Al Fayed was retiring "to spend more time with his children and grandchildren".
A colourful and controversial figure, Mr Al Fayed acquired Harrods in 1985 following a £615m takeover bid.
The deal was signed in the early hours of 8 May, BBC business correspondent Joe Lynam said.
Our reporter added that Mr Al Fayed's motivation for selling was unclear, but the price tag was not inconsiderable in a post-recessionary market.
The BBC understands that Mr Al Fayed will stay on in some capacity but will not be involved in running the company day-to-day.
The sale will include all parts of the Harrods group, including Harrods Estates and a charter aircraft service.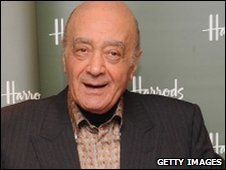 Mr Costa, chairman of asset managers Lazard International, who advised the Al Fayed family trust on the sale, said Qatar Holding had been "specifically chosen" by Mr Al Fayed because he believed it had the "vision and financial capacity" to support the long-term growth of the store.
"In reaching the decision to retire, he wished to ensure that the legacy and traditions that he has built up in Harrods would be continued, and that the team that he has built up would be encouraged to develop the foundations that he has laid," Mr Costa added.
Reports in March had suggested that the Gulf-based investor, which works on behalf of the royal family in the Arab emirate of Qatar, had approached Mr Al Fayed about a possible deal.
However, staff were assured at the time that the store was not for sale.
Repeatedly refused
Mr Al Fayed's UK business interests include the Premiership football club Fulham FC and a recent rich list put his fortune at £650m.
During the 1980s, a battle for control of the store formed part of a long-running feud between Mr Al Fayed and the late businessman Tiny Rowland.
Mr Rowland later accused his business rival of breaking into a safety deposit box stored at Harrods.
Egyptian-born Mr Al Fayed waged a 10-year campaign to prove that Princess Diana and his son Dodi, who died in a Paris car crash in 1997, were murdered in a conspiracy.
Despite living in Britain for decades, the multi-millionaire businessman has repeatedly been refused a UK passport.
After his first passport refusal, Mr Al Fayed revealed he had paid two Conservative ministers – Neil Hamilton and Tim Smith – to ask questions related to his interests, in the House of Commons. Both left the government in disgrace.
He claimed another political scalp in Jonathan Aitken, the cabinet minister who resigned after the Harrods boss revealed he had been staying free at the Ritz in Paris at the same time as Saudi arms dealers.