Gemayel: Aoun lost his credibility in MT Lebanon & soon will lose in Beirut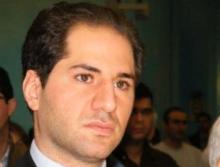 Phalange Party Central Committee Coordinator MP Sami Gemayel told Future News on Friday that the results of Sunday's Mount Lebanon municipal elections show that Free Patriotic Movement leader MP Michel Aoun lost his credibility in the region.
Aoun will also lose his credibility in Beirut and Zahle following those cities' Sunday municipal elections, he said, adding that the FPM leader is incapable of contesting electoral battles.
This comes after the FPM and Hezbollah announced that they would boycott Beirut's municipal elections on Sunday after failing to reach consensus with Prime Minister Saad Hariri and the March 14 Christians. However, both parties will contest the city's Mukhtar elections.
Gemayel also said that they are participating in the Mukhtar elections to provoke the public, possible referring to the FPM and Hezbollah. He added that they have "not presented any plans for the municipalities."
Gemayel Slams Political Sectarianism
During a lecture at the American University of Beirut (AUB) on Friday , Gemayel said : "Lebanon's problems are derived from its constitutional structure: the regime that is based on the distribution of shares and political sectarianism."
Gemayel highlighted during his AUB lecture the inability "to abolish political sectarianism at the moment without further guarantees to the sects, because the sectarian mindset is still prevailing and the (sectarian) majority will rule."
Gemayel stressed that the solution lies in decentralization "which represents the alternative to political sectarianism, because it guarantees reflecting the ideas of all groups and their lifestyles through local councils, so that the Lebanese can have a relaxed relation with each other and rise above the period of mistrust."
"In every historical epoch, there has been a Lebanese group that allied itself with foreign powers against the other fellow Lebanese," Gemayel said, adding that "nobody has the courage to sit at a round table to talk about the confidence problem in order to build a relation that stands in the face of all foreign breaches."
Gemayel addressed all sectors of the society, stressing that "if Lebanon drowns, everyone would drown with it."