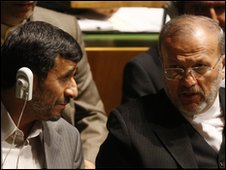 Iran's foreign minister has invited members of the UN Security Council for dinner amid a threat of fresh sanctions over Tehran's nuclear program
A UN diplomat said "all countries would be represented" at the dinner on Thursday evening.
The UN envoys of six major powers have been discussing a possible sanctions resolution against Tehran.
Iran insists it has the right to develop civil nuclear power. The US suspects it is seeking atomic weapons.
On Wednesday, Iran's President Mahmoud Ahmadinejad was reported to have agreed in principle to accept Brazil as mediator on a deal for providing it with nuclear fuel.
The proposed UN-backed international deal to swap Iran's low-enriched uranium for high-enriched nuclear fuel broke down earlier this year.
The idea – proposed by the US, Russia, China, UK, France and Germany – was to ensure Iran had nuclear fuel for medical purposes, while reducing its bomb-building potential.
The plan would require Iran to ship 1,200 kg (2,646 lb) of low-enriched uranium to Russia and France, where it would be converted into fuel to be used to make isotopes for cancer treatment.
Iran's president told ABC News on Wednesday that Iran would "definitely continue" its nuclear program despite the potential threat of Israeli military action.
He also brushed aside the current US push for a fresh round of sanctions. BBC
This error message is only visible to WordPress admins
Error: No connected account.
Please go to the Instagram Feed settings page to connect an account.