France: Syria must guarantee the security of its border with Lebanon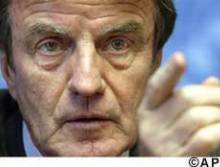 France's foreign minister expresses concern over a "stockpile of weapons" in the Middle East, accusing Syria of supplying Hezbollah with Scud missiles.
"There is a stockpile of weapons, short-range, medium-range and perhaps even long-range missiles and we are concerned," Bernard Kouchner told Europe 1 radio on Sunday, according to AFP.
He said Syria had to "guarantee the security" of its border with Lebanon.
Last month, the US and Israel accused Syria of supplying Russian-made Scud missiles to the Lebanese resistance movement Hezbollah.
Lebanon and Syria have both denied the allegations. Hezbollah Secretary General Seyyed Hassan Nasrallah said on Friday that no evidence had been presented to support the claims.