The polling stations closed in Mount Lebanon with Jbeil district recording the highest voting percentage of 65%. Interior Minister Ziad Baroud said at at a press conference that overall Mount Lebanon voter turnout was approximately 59 %.
The interior minister said that compared to problems in past elections, Sunday's problems were small.
Vote count began and initial election results started coming in. According to National News Agency the following initial results were reported :
Aanout list and consensus list wins in Dalhoun
Continuity and development list wins in lower Wadi Shahrour
The Achievement and Development electoral list won in Araya.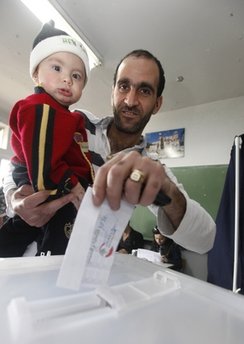 Preliminary results announced for Baabdat Broumana and Roumiyah
The entire Halat Decision electoral list won.
Kesrouan district:Zouk Mosbeh list, Kfour list, members of Ghadras list, four members of Carlos Merheb list,Ashqout list and Bat'ha list.
Victory declared for the Loyalty and Development alliance which includes Hezbollah and AMAL families in Borj al-Barajneh.
Victory declared for the Bhamdoun municipal electoral list headed by Abu Rjeili.
Victory declared for "Shiyah Unity First" list will all 18 members. It won 2,900 of 3,200 votes.
In Mount Lebanon, almost 800,000 Lebanese were electing municipal councils and mukhtars, or mayors.
Polling stations opened at 7 am (04H00 GMT) and closed 12 hours later.
Out of a total of 313 municipalities, 56 councils are not being contested as consensus lists have been agreed amid a political calm in Lebanon since a national unity government was formed last November.
More than 7,500 candidates, including 466 women, are contesting 3,507 seats, after a proposal by Interior Minister Ziad Baroud to bring in a quota system for women failed to win approval in parliament.
Some 20,000 security personnel have been mobilised for the polling, Lebanon's first local elections since 2004.
The final official results will be announced on Monday according to the ministry of interior
This error message is only visible to WordPress admins
Error: No connected account.
Please go to the Instagram Feed settings page to connect an account.