May day: Bomb attack on police in Greece, foreign workers protest in Lebanon
Protesters attacked police officers with a petrol bombs in Athens, while in Lebanon foreign workers demonstrated peacefully for the rights of migrant domestic workers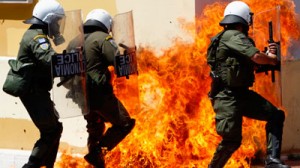 Demonstrators have attacked police officers with a petrol bomb and set fire to vehicles in violent confrontations on the streets of Athens during a May Day protest.
Officers in riot gear retaliated with batons before quickly backing off after each repeated wave of attacks.
As tension escalated, officers fired tear gas at protesters who covered their faces with scarves while others dodged petrol bombs.
A Greek national TV van was also set on fire by rioters.
Meanwhile in Thessaloniki, in the north of the country, police have been firing tear gas at demonstrators attacking banks and businesses.
Sky News' Europe correspondent Alex Rossi, who is in Greece, said: "We were expecting it to turn a bit ugly – and it has."
The face-offs come amid May Day protests in the Greek capital that started with peaceful marches when people gathered for a rally at the central Syntagma square.
The Greek government is introducing a series of spending cuts to bring the country out of massive amounts of debt – but the Greek people are furious about what they see as draconian measures.
However, the government must introduce severe structural changes to society for an EU and IMF bail-out to succeed.
Some benefits to employees, such as a two-month bonus each year and extra pay for workers employed outside, are ripe for slicing.
Rossi said: "Things are going to get fairly tough here. These people are very, very angry with their government."
And he went on: "To give you an idea of the seriousness of the situation, the Greek prime minister has described it as a matter of national emergency and he has even compared it to a war-time situation."
Trouble has erupted across the world during rallies on May Day, traditionally seen as a day of celebration for workers.
Scuffles broke out in Turkey as tens of thousands of people filled a central square in Istanbul for the first May Day celebrations at the site after dozens were killed there 33 years ago.
While in Russia's restive North Caucasus region of Kabardino Balkaria, an explosion at a rally killed one man and injured 21, according to news agencies.
Meanwhile, riot police in Macau had earlier used water cannon and pepper spray in clashes with protesters who fought back with stones and bottles.
Hundreds of people were involved in the clashes, which erupted after protesters tried to force their way through police barricades to march along a main road where the gambling hub's major tourist attractions are located.
Protests are also expected in Portugal, which has been struggling with a financial austerity package in the wake of debt concerns.
Police are also bracing for possible problems in the United States as tens of thousands of immigrant rights activists gather in Los Angeles, and elsewhere.
Massive turnouts are expected because of ongoing controversy sparked by a new law in Arizona that permits police to check the legal status of people they suspect are illegal migrants.
The new regulation also tries to thwart employment for illegal immigrants by making it a crime to employ day labourers hired off the street.
Lebanon May day protests
Dozens of foreign workers demonstrated in Beirut Saturday to protest against their abuse and lack of labor rights while working in Lebanon.
There are an estimated 200,000 foreign workers, many employed as home helps, in Lebanon who mainly hail from the Philippines, Sri Lanka and Ethiopia.
"We are protesting today to show the Lebanese and the world that we lack the minimum labor rights while working in Lebanon," a Filipno house maid told the German News Agency, dpa.
Carrying placards that read "We are entitled to a day off," the demonstrators marched silently through Beirut.
"When we come to Lebanon our employer takes away our passport and we become his slave … no day off once a week, bad treatment, abuse and whatever you can think of," Chandra a house maid from Srilanka told dpa.
A Lebanese man who was watching the protests disputed the claims of the foreign domestic workers." My maid gets 2 days off every week and she still wants more " he told Ya Libnan and added : "She gets more per month than a college graduate in Lebanon "