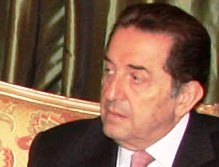 Labor Minister Boutros Harb told Future News on Saturday that Prime Minister Saad Hariri and the March 14 alliance are trying to avoid an electoral standoff over Beirut's municipal elections through talks with the March 8 alliance, but "political blackmail and impossible demands" are getting in the way
Negotiations between the Free Patriotic Movement and March 14 have not led to an agreement on the distribution of seats in the Beirut municipal council.
Meanwhile Minister of State Michel Pharaon told the Free Lebanon radio station on Saturday that Speaker Nabih Berri is put off by Free Patriotic Movement leader MP Michel Aoun's request concerning Sunni opposition representatives as part of his talks with the March 14 alliance.
"Aoun's primary aim is to ask Prime Minister Saad Hariri to give the Sunni opposition a share in Beirut's municipal council," Pharaon said.
Pharaon said Aoun has dragged Hezbollah into an electoral battle in the Beirut district. The FPM leader is holding a grudge, Pharaon said, from the results of the 2009 parliamentary elections in Beirut, which the March 14 Christians won.
This error message is only visible to WordPress admins
Error: No connected account.
Please go to the Instagram Feed settings page to connect an account.