Mea chief threatens to sue the pilots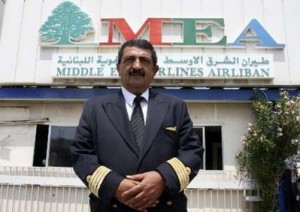 Lebanon's Middle East Airlines Chairman Mohammed al-Hout threatened on Thursday to sue MEA's pilots who are on a 24-hr strike, describing their act as "illegal and arbitrary."
At a press conference, Hout revealed that the strike costs MEA $800,000 a day.
He accused the pilots of failing to respect an agreement signed in 2008 in which they waived the right to demand salary raises or changes in working conditions that would "place a financial burden on MEA."
"Some of them told me point-blank: 'Yes, we signed but we changed our minds'," Hout told reporters.
According to Hout, the starting monthly salary of an MEA pilot is 3,200 dollars. It increases to 4,500 dollars after one year while pilots with 10 years of experience make an average 12,000 dollars a month.
"Are these salaries really unfair in a country where minimum wage is 500,000 Lebanese pounds (330 dollars)?" Hout asked.
MEA pilots said the strike was a warning to the company to meet their demands for improved working conditions including annual pay raises, more vacation days and a pension plan.
MEA pilots assoc chief"Out of keenness on the acquired rights of pilots and on the career of the Lebanese pilot in general, Lebanese Pilots Syndicate declares a general strike in (state-run) Middle East Airlines on Thursday, April 29, 2010 for the period of 24 hours starting 3:00am local time as a preliminary step until we regain our rights," Mahmoud Houmany ( pictured) , head of the Lebanese Pilots' Association announced at a press conference.
Houmany extended apologies to "all passengers and the Lebanese people over this forced measure aiming at restoring the rights, dignity and solemnity of the Lebanese pilot."
"If we did not obtain the rights we're asking the administration for, there would be another strike next week," Houmany warned.
According to observers strike could negatively affect MEA's privatization plan.
Hout said early April that he expects the carriers shares to begin trading on the Beirut stock exchange by next year once the process for launching the initial public offering is completed.