Belgian vote on Muslim veils could echo in Europe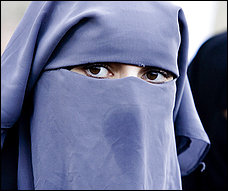 By: Tom Heneghan
Belgium's vote to ban full face veils in public is the furthest any European country has gone to confront a tiny minority whose choice in clothing has come to symbolize the issue of integrating some Muslim minorities.
The issue is being debated elsewhere in Europe, especially in France, and the example of two countries moving toward a ban has raised the stakes in a dispute pitting politicians and public opinion against Muslim leaders and human rights groups.
The lower house of parliament in Brussels passed the draft law almost unanimously Thursday evening. It could become law in the coming months as the Senate is not expected to block it.
France, home to Europe's biggest Muslim minority, is next in line, planning to debate a draft law from mid-May and ban all face veils in public within months. Polls say about 70 percent of voters want some ban, but not all back a complete one.
Full facial veils — known as niqabs or burqas — are extremely rare in Europe, but the number of women wearing them is rising. No exact figures exist, but estimates put the totals at about 2,000 in France and a few hundred in Belgium.
Promoters of a ban denounce the veils as a threat to public security, an affront to women's dignity, a negation of gender equality or an intrusion of religion on public life. Concern over radical Islamism echoes through their arguments.
In France this week, both the communist deputy Andre Gerin and the far-right leader Marine Le Pen used the same term — "the tip of the iceberg" — to urge a full ban on the veils.
"Once we solve the burqa problem, we'll still have the problem of polygamy, of praying in the streets of big cities, of banning pork from cafeterias, in short all the sectarian demands the French are confronted with daily," Le Pen said.
ELSEWHERE IN EUROPE
Bans are under debate in several other European states. Austrian Chancellor Werner Faymann said this week a veil ban was "conceivable" there and his minister for women supported one in public buildings, banks, hospitals and offices.
Far-right leader Geert Wilders, whose political clout could grow in the Dutch general elections in June, advocates outlawing face veils there. Right-wing groups in Switzerland and Italy have also urged bans, but no action seems likely there soon.
The moves toward a full veil ban have evoked protests from Muslim leaders in Europe, many of whom do not consider veiling obligatory in Islam but resent laws that single out Muslims.
"We have to condemn both the notion of imposing and the notion of banning," said Isabelle Praille, vice president of the Executive of Belgian Muslims.
In Paris, M'Hammed Henniche, head of a civic group called UAM 93, told officials the planned ban there was spreading "panic" in the city's sensitive northern suburbs. "The community feels like this is a rape," he said.
"The Belgian move to ban full face veils, the first in Europe, sets a dangerous precedent," said John Dalhuisen of Amnesty International. "Restrictions on human rights must always be proportionate to a legitimate goal. A total ban on full face veils would not be."
DETAILS OF BANS
Under Belgium's draft law, wearing a full facial veil could lead to fines of 15-25 euros (about $20 to $33) and imprisonment for up to seven days.
According to the Paris daily Le Figaro, Paris plans to slap a 150 euro ($200) fine on women wearing full veils, with stiffer penalties for people who force others to veil themselves.
Le Figaro said the government's draft bill, which has yet to be presented to the cabinet and parliament, says people who use "violence, threats, abuse of power or authority" to make women cover themselves would face a 15,000 euro fine.
"Nobody can wear a garment in public aimed at hiding their face," reads article 1 of the French draft bill, Le Figaro said. Article 2 says "instigation to hide someone's face because of their gender" is a criminal offence.
French officials say the law could include a six-month introduction period, during which police would stop veiled women on the street and explain the law but not fine them.
President Nicolas Sarkozy has described the full veil as demeaning to women, and most French are in favor of outlawing it at least from certain public spaces such as town halls, opinion polls have shown. Washington Post