Qabalan: Era of political domination by Maronites, Sunnis or Shiites in Lebanon is over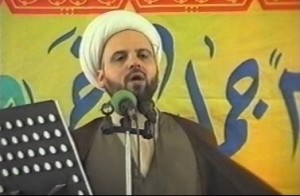 Lebanon's Grand Shiite Jaafarite Mufti Sheikh Ahmed Qabalan on Sunday warned that it the era of political domination by the Maronites, the Sunnis or Shiites in Lebanon is over.
"We refuse to go back to that era …return to Maronite politics to Lebanon," Qabalan said. "We also don't want a return of Shiite politics or Sunni politics because it is through partnership that political decisions are made in Lebanon."
Turning to Maronite Patriarch Nasrallah Sfeir, Qabalan asked: "Is there a need for concern and fear of partners and brethren in the homeland?
"Are calls for a strong and just state that serves the needs of its citizens considered fanatic? Is it a national demand or is there something hidden and dangerous?" he added.
"We won't allow anyone to be suspicious of our patriotism," Qabalan threatened.
"You have to be convinced that Lebanon is for all its citizens, and the State should act on this basis," he said in a clear reference to Maronites.
He also hit back at those who criticize Hezbollah arms, saying the "resistance is our honor and our dignity and its weapons are our glory."
"We shall hold on to these weapons," he stressed.
Holding onto the weapons is precisely what concerns Sfeir and the March 14 Lebanese majority alliance according to political observers.
Army clashes with the Jaafar clan
The Lebanese Army clashed with Qabalan's Jaafar clan in the eastern Lebanese city of Baalbek on Friday. The clashes resulted in the wounding of 10 people, including five soldiers, four clan members and one passer -by a security official said.
An army patrol was fired upon by members of the Jaafar clan during a raid in the city's Sharawneh neighborhood to find fugitives in a court case, the official told AFP
He said automatic weapons and RPGs were used in the exchange of fire.
On Friday, the army cordoned off all the routes into and out of Sharawneh, including the international highway at the Tal al-Abiad point on the northern outskirts of Sharawneh.
LBC television reported that the army called in a commando regiment in order to besiege the Sharawneh neighborhood.
The state-run National News Agency reported that the army declared the area a closed military zone and that soldiers started raiding the houses of the suspects.
One observer who refused to be named for security reasons responded to Qabalan's statement about patriotism : Is it a sign of patriotism to shoot at the Lebanese army ? He added : This is precisely why the Lebanese are suspicious about the patriotism of the so called "resistance ."