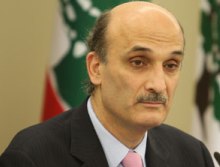 Lebanese Forces leader Samir Geagea launched on Friday the LF's workshop in preparation for its first general conference.
Geagea listed the workshops' eight different stages, beginning with the distribution of a draft outlining the party's internal regulations.
During the 16th commemoration of the banning of the LF party , Geagea announced that after four years of hard work, the draft of the party's internal system is complete and that as such, the LF's first general conference was to take place soon.
Geagea said the LF exists since the concept of resistance in Lebanon was born. He also said the LF defended the Lebanese state, constitution, and institutions at a time when others gave up on the country.
"The LF should be the first to protect Lebanon against both foreign and domestic threats," added Geagea.