Aoun slams Lebanon's MEA, calls it a corruption icon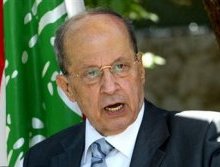 MP Michel Aoun criticized the Lebanese national carrier MEA following Change and Reform bloc's meeting :MEA is a corruption icon in Lebanon as we don't know if it's a public administration or a private company. We don't know who runs it and how it's run; how people are penalized and fired from their jobs; and on what basis appointments are made.
It is not clear why is Aoun attacking the MEA. The head of Lebanon's national airline said last week the company will begin the process of a partial privatization this year.
Middle East Airlines chairman Mohammed Hout said last Thursday that he expects the carriers shares to begin trading on the Beirut stock exchange by next year once the process for launching the initial public offering is completed.