FPM lost confidence in Lebanon cabinet, says Bassil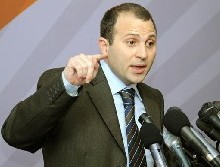 Energy and Water Minister Gebran Bassil said the Free Patriotic Movement has lost trust in Prime Minister Saad Hariri's Cabinet over municipal elections and accused the cabinet of manipulating the Lebanese people
"Holding municipal elections without reforms has led to losing confidence in the government," Bassil said in an interview published in An-Nahar's Monday edition.
"It will also lead to lack of confidence among the various political parties," Bassil cautioned
He criticized the cabinet due to its failure to amend the municipal electoral law.
According to Bassil, holding the municipal elections without the cabinet's proposed municipal reforms undermines the government's legitimacy.
He reiterated his support for the adoption of the proportional-representation system during both the municipal and 2013 parliamentary elections.