Wahhab: Geagea's statement is positive
Former minister Wiam Wahab, a staunch Syrian ally told NBN television on Sunday that Lebanese Forces leader Samir Geagea's support for Prime Minister Saad Hariri's expected visit to Syria is positive.
"Geagea's statement can be the basis of a new start, especially since there is no project to isolate any party , even the LF," Wahab said.
"It is not enough to highlight the importance of Hariri's visit to Syria in order to ensure rapprochement with Damascus," Wahab said in reference to Geagea.
Syria's terms for rapprochement, Wahab added, requires support for the Resistance.
Wahab said rumors of a dispute between Syria and PM Hariri are unfounded.
Geagea: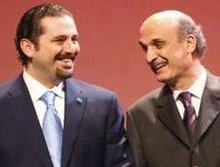 Geagea told the daily An-Nahar in an interview published Sunday that
he supports efforts by Prime Minister Saad Hariri to sort out the situation with Syria, stressing that Christians have always been part of the fabric of the Arab world.
Geagea praised Hariri's attempts to "sort out" the situation between Lebanon and Syria .
Hariri is "acting as a statesman in every sense of the word," Geagea said.
His remarks came following a meeting on Saturday with Hariri at Center House in downtown Beirut.
Geagea believed Hariri was the "only" official among Lebanon's political leaders who dealt with Syria in his capacity as a political leader for the benefit of Lebanon.
He pointed to Hariri's efforts to sign agreements with Syria in various trade, environment and tourism fields, in addition to trying to solve other major issues like missing Lebanese, Palestinian arms outside refugee camps and border demarcation.
"This is why I support Premier Hariri in this direction," Geagea stressed.
The LF leader said he put Hariri in the picture of Ouyoun Orghosh incident and the "conspiracies woven, which, unfortunately, are all lies."
In remarks published earlier by the Saudi Al-Watan newspaper, Geagea said that he has "not seen positive results from Lebanon's openness policy toward our brethren in Syria."
"We are waiting" to see the outcome, he added.
Geagea said he was not in favor of personal visits to Syria, but rather supported "respectful" ties based on a state-to-state relationship "via the President or the Prime Minister."
"Christians were not one day outside the Arab fabric," Geagea stressed.
"Something that remains unknown to many is that the Lebanese Forces was one of the first Lebanese parties to restore ties with the Palestine Liberation Organization in 1986, and the previous year we had close relations with Iraq, and in the years 1986 and 1987 we had forged ties with Egypt, Algeria and Jordan.
"This means that in the peak of the Civil War, contact with the Arabs was the basis, unlike what happened in the first years of the war," Geagea told Al-Watan.