Plane crash: World leaders pay tribute to Polish leader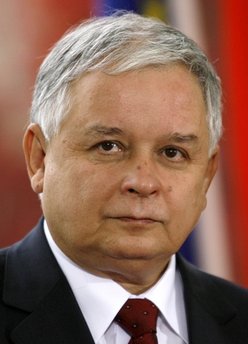 World leaders, agencies and officials mourned the death of Polish president Lech Kaczynski who was killed in a plane crash early Saturday.
U.S. President Barack Obama: "Today, I called Polish Prime Minister Tusk to express Michelle's and my deepest condolences to the people of Poland on the tragic deaths this morning of President Lech Kaczynski, First Lady Maria Kaczynski, and all who were traveling with them to commemorate the 70th anniversary of the Katyn massacre.
"Our thoughts and prayers are with the Kaczynski family, the loved ones of those killed in this tragic plane crash, and the Polish nation. Today's loss is devastating to Poland, to the United States, and to the world. President Kaczynski was a distinguished statesman who played a key role in the Solidarity movement, and he was widely admired in the United States as a leader dedicated to advancing freedom and human dignity."
Russian President Dmitry Medvedev: The Russian president offered his condolences to Polish Parliament Speaker Bronislaw Komorowski during a telephone conversation with him, Interfax reported.
British Prime Minister Gordon Brown: "I was shocked and saddened at the death of Polish President Lech Kaczynski and his wife Maria. President Kaczynski was one of the defining actors in Poland's modern political history.
"From his role in the Solidarity movement to his long and distinguished career in public service — including as Justice Minister, Mayor of Warsaw, and most recently as President of Poland — he will mourned across the world and remembered as a passionate patriot and democrat. My thoughts are with his family and countrymen at this most difficult of times."
French President Nicolas Sarkozy: The president said he learned of Kaczynski's death with "great emotion and a deep sadness" and expressed his sympathy to the families of the president and other victims.
Secretary of State Hillary Clinton: "Like the country he led, President Kaczynski was one of America's most valued and trusted allies. He was well known in the United States as a champion for democracy against an oppressive regime, a man whose journey took him from the Gdansk Shipyards to the presidency of a free people.
"President Kaczynski was an unstinting advocate for freedom and human rights not just in Poland, but around the world."
Former President George W. Bush: "President Kaczynski was a strong defender of freedom and a friend to the United States. Laura and I have fond memories of our visits with the President and Maria. On this sad day, we send our heartfelt condolences to people of Poland, and especially to the families of all those lost in this tragic accident."
Israel Prime Minister Benjamin Netanyahu: "We share in the profound grief of the Polish people over the loss of President Kaczynski, his wife and all of the members of the Polish delegation.
Kanat Saudabayev, chairman of the Organization for Security and Cooperation in Europe: "I offer my deepest condolences to the Polish people and to the families of those killed in this tragic accident. Our hearts go out to you in this difficult time."
Afghan President Hamid Karzai: "The Polish president was a good ally and friend of Afghanistan in fighting against terrorists. The president expressed condolences on behalf of the Afghan people to the friend, families, soldiers and the Polish people."
British Queen Elizabeth II: "It is with the deepest sorrow that I have learnt of the death of President Lech Kaczynski and First Lady Madame Kaczynska. On this sad occasion.
"I recall President Kaczynski's long and distinguished public service and his role in the Solidarity movement. The deaths of many other of Poland's leading figures, including former President in Exile Kaczorowski, only serve to deepen this tragedy."
Clarence House (Prince Charles and his wife, Camilla): "The Prince of Wales and The Duchess of Cornwall are shocked and deeply upset by the tragic death of Polish President Lech Kaczynski, Madame Kaczynski and many others at Smolensk airport this morning. As guests of The President and his wife only a few weeks ago, Their Royal Highnesses experienced at first hand their generous hospitality during what was a very memorable and enjoyable visit to Poland."
German Foreign Minister Guido Westerwelle: "We are deeply affected by the death of the Polish President and his wife, and probably members of the government. We are in deep compassion with the family members and all victims of this catastrophe. We are shocked by this news and full of sorrow. We mourn with the Polish people, our neighbours. We are losing personalities on which Europe could build, when it needed to.
United Nations Secretary-General Ban Ki-moon: "On behalf of the United Nations, the Secretary-General expresses his deep and heartfelt condolences to the people and Government of Poland and to the families of those who perished. The Secretary-General said President Kaczynski had served his country and people with distinction and conviction, and was deservedly respected internationally. That he died en route to an event marking a new level of reconciliation between Poland and Russia is particularly poignant."
The U.S. State Department spokesman P.J. Crowley: "This is a horrible tragedy for Poland. We extend to the people of Poland our deepest condolences." CNN