STL: Bellemare is as committed to his mission as ever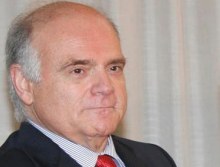 Special Tribunal for Lebanon Prosecutor Daniel Bellemare's spokeswoman Radhia Achouri said Tuesday that the court's Prosecutor has no intention to resign and "is as committed to his mission as ever."
"What has been reported by the newspaper in question is absolutely false," she told Naharnet about a report by the French-language daily L'Orient Le Jour.
The newspaper quoted official sources as saying that Bellemare has informed U.N. chief Ban Ki-moon about his intention to resign over attempts by some parties to politicize the court at the expense of the truth behind ex-Premier Rafik Hariri's murder.
Sources close to the secretary-general also told Naharnet that Ban has not received any signal from Bellemare about his intention to resign.
The sources stressed that the tribunal is functioning in a systematic manner and its work is based on professional legal standards.
Sources informed about the administrative work of Bellemare's office in Beirut told Naharnet that the Prosecutor is intensifying his activities lately and is satisfied with his work.
They said that reports about Bellemare's intention to resign reflect the wishes of those leaking such information and not the status quo. They also warned that the Prosecutor would expose the parties behind the obstruction of his mission if he came under pressure.
The denials came after Journalist Emile Khoury, quoted official sources as saying that the U.N. secretary-general is making strong efforts to convince Bellemare into staying in his post.
The Prosecutor's doubts over the retention of his post emanate from the campaign launched against the tribunal and this "offensive" could delay the verdict against Hariri's suspected killers, Khoury wrote.
The newspaper said it was necessary to take measures against false witnesses and not to charge members of a certain party who had been called as witnesses. Such members could be involved individually or could have been "bought or manipulated by a third party."
L'Orient Le Jour said that once a new U.N. Security Council resolution is needed to extend the tribunal's three-year mandate, local, Arab, regional and international parties would engage in a dispute that could delay the financing of the court for the years to come.
The daily also warned that judicial proceedings could be transferred from the STL to the Lebanese judiciary after a power crisis that could result from the insistence of pro-Syrian ministers that the deal between the court and the cabinet, which led to the establishment of the tribunal, was made at a time of "an illegitimate government" that didn't have Shiite representation. Naharnet