Assad, Arslan Discuss Syrian-Lebanese Ties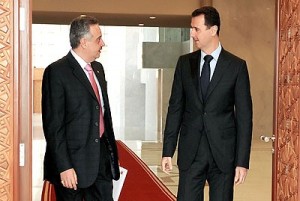 Syrian President Bashar Assad met today in Damascus with the head of the Lebanese Democratic Party Talal Arslan and discussed "efforts exerted to consolidate Syrian-Lebanese relations," Syria's state-run news agency, SANA, reported Monday.
Arslan thanked Assad for "his keenness on establishing the best of ties with Lebanon and his openness to all forces that back the resistance and are keen about the future of Syrian-Lebanese ties," SANA said.
The Syrian president has reportedly lauded the MP for his role in "strengthening consensus among Lebanese and his steadfast national stances in the past years," the news agency said.
It also quoted Assad as telling Arslan that his role along with the efforts of "other national forces in Lebanon have restored stability" in the country.