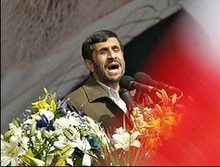 Iranian President Mahmoud Ahmadinejad rejected parliament's subsidies law on Monday and demanded double the cuts in food and fuel supports, in a rebuke to an assembly dominated by his erstwhile conservative allies.
He was tacitly supported by the country's Supreme Leader Ayatollah Ali Khamenei, who urged parliament to work with the government to reach a compromise.
The parliament approved $20 billion in cuts, or just half of the savings demanded by Ahmadinejad's government, in January with lawmakers saying they feared the full $40 billion in cuts would have prompted a 50 percent plus surge in inflation.
Also last month, the parliament passed a state budget for the new Iranian year, that did not contain Ahmadinejad's cuts.
The government says the cuts are needed to recoup some of the roughly $100 billion spent yearly by OPEC's second largest exporter on subsidies, and to target the funds more directly at helping poorer segments of the population as well as funding infrastructure projects.
Subsidies currently eat up about 30 percent of the government budget at a time when already high spending has squeezed the country's economy.
Ahmadinejad, whose disputed re-election sparked widespread opposition rallies and a bloody government crackdown last year, has suggested a referendum on his demand of $40 billion in cuts.
Parliament Speaker Ali Larijani defended the $20 billion cut and said the parliament would only consider Ahmadinejad's demand if he presented figures on how the cuts would affect inflation rates, fuel prices and economic growth.
The speaker also angrily rejected Ahmadinejad's referendum proposal, noting that it was completely counter to procedure to hold a referendum over a law that has already been passed by parliament.
In a meeting with lawmakers Monday, Khamenei sided with Ahmadinejad, urging the parliament to compromise.
"I hope an appropriate agreement will be reached between the government and the parliament," state TV quoted Khamenei as saying. "The government is in the middle of executive works and all, while considering the interests, must assist the government and facilitate implementation" of the economic package.
Prominent hardline lawmaker Assadollah Badamchian, once an ally of Ahmadinejad, said the president is trying to use parliament as a scapegoat.
"It's likely that the president has noticed the difficulty in implementing the subsidy cut law. That's why he doesn't want to enforce it and then blame the parliament for the failure," he said, according to several news Web sites.