Aude: Lets join forces to create a strong state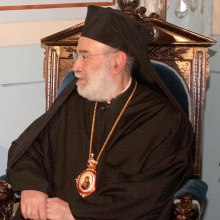 Greek Orthodox Archbishop of Beirut , Lebanon Elias Aude on Sunday criticized the bickering over the municipal elections and called for a strong state.
"We claim that we are a democratic country but we don't practice democracy," Aude said during Easter mass at Saint George Cathedral in downtown Beirut.
"Why don't we join forces to create a strong state and refined institutions and keep the judiciary incorruptible ?" the Archbishop wondered.
"In a respected country, no one discusses the date of presidential, or parliamentary or municipal elections," he said in reference to bickering among Lebanese politicians over the date of the municipal polls and suggested reforms to the municipal draft-law.
He also criticized pubs and nightclubs in the area of Gemmayze after legal battles between the owners and citizens took a sharp turn. "I am against tourism if it is going to create discomfort for citizens."
Turning to regional issues, Aude said: "Aren't the wars that we are witnessing proof of people's lack of mercy to others?" he wondered.