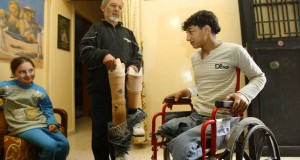 TYRE, Lebanon: Nearly four years after Israel littered southern Lebanon with mines during its devastating war with Hezbollah, teenager Mohammed al-Hajj Mussa can barely bring himself to speak of the day he lost his legs.
On August 11, 2006, the lean, dark-haired boy was riding behind his father on a motorbike to deliver food to a nearby town badly hit in the Israeli raids when a cluster bomb went off under one of the tyres.
"Later, I was told that I was found in a creek about four hours after the explosion," Mohammed, now 15, told AFP at his rundown home in the Palestinian refugee camp of Al-Bass, located in the southern coastal town of Tyre.
"I came to consciousness when they were pulling me out of the water, and I knew it. I could see my legs falling apart."
That same night, the UN Security Council unanimously adopted Resolution 1701 calling for an end to the hostilities and three days later, the month-long war was over.
But Israel left a deadly legacy: the United Nations estimates that Israeli jets dropped more than four million cluster bombs in southern Lebanon in the summer battles.
Ninety percent of the bombs were dropped in the final 72 hours before the ceasefire after Resolution 1701 was adopted, the United Nations says.
Around 40 percent of the munitions failed to detonate on impact, rendering them de facto anti-personnel mines.
The munitions have killed 46 and maimed over 300 civilians since 2006, according to Lebanese army and UN figures.
Most of the victims are sappers, farmers and unsuspecting children, who mistake the shiny objects for toys.
April 4 marks the International Day for Mine Awareness and Assistance in Mine Action and in Lebanon activists plan to plant trees in cleared minefields.
But with new humanitarian crises across the world and the global economic downturn, hope for mine victims in the tiny Mediterranean country is dwindling as funds dry up.
Victims like Mohammed are waiting in line for prosthetic limbs and demining activities have slowed as the army and international organisations are forced to cut down on manpower.
"We are facing a serious shortage in funds," said Colonel Rolly Fares, who heads the army's mine victim assistance programme.
More than 197,000 cluster bombs have been defused since the end of the 2006 war, Fares said, but hundreds of thousands still threaten the people of southern Lebanon.
"We have cleared almost 52 percent of the 45 square-kilometre (17.3 square-mile) area affected but we have less demining teams with the cash shortage," he said.
'THEY'RE TERRIFIED OF ANOTHER WAR'
Maha Shuman Jebahi, of the Lebanese Handicap Welfare Association, said lack of funding meant more and more victims are left waiting for prosthetic limbs.
"How do you tell someone that we can provide psychological assistance but we can't give them a leg?" she said.
But Mohammed, who is also a Palestinian refugee, refuses to pin his hopes on a new pair of legs. He finds it easier to cope that way.
He received treatment for his injuries in Germany and Malaysia but back now in Lebanon, the growing adolescent is battling to find adequate prosthetic limbs.
"These don't fit," he said, showing a pair of artificial legs propped up in a corner, with jeans bunched around the ankles and sneakers on both feet. "They hurt and they keep breaking.
"It's not legs I want anymore," he added. "All I want is a life, an education, a girlfriend."
Khaled Yamout, who heads the landmine action program for the Norwegian People's Aid, said his organisation was facing a 25 percent budget cut this year and a 50 percent cut next year.
"The Lebanese government alone lacks the capacity to ensure the safety of land for civilians," Yamout told AFP. "The load is beyond huge."
Israel's use of cluster bombs in Lebanon goes back decades. According to Human Rights Watch (HRW), Israel used the munitions during Lebanon's 1975-1990 civil war, and then again in 2006.
The United States, too, dropped the deadly bomblets on Syrian army bases near Beirut in 1983, according to HRW.
While the Jewish state provided maps of cluster bomb and landmine locations last year, the Lebanese army has said the maps were flawed and incomplete.
In a significant step forward, the United Nations announced last month that a 30th country had signed the international convention banning cluster bombs, paving the way for the document to come into force on August 1.
The United States and Israel are not among the signatories.
But for the people of southern Lebanon, the convention is years late and offers little hope amid fears that a new war is lurking, threatening new devastation.
Seventy-year-old farmer Ibrahim Ramadan today can only gaze at his land from a distance. Aid groups have warned him it is still contaminated with mines, and he fears for the safety of his grandchildren, preferring to keep them indoors.
"No one dares touch this land, the land that we and our ancestors before us cultivated with olive trees, tobacco, and wheat," Ramadan told AFP at his home in the windy southern town of Ghanduriyeh, which was badly hit in the 2006 war.
Today, he says tensions are again high and his townsfolk are bracing for another round of violence.
"People are terrified," he said. "They're terrified to venture into their own land.
"They're terrified of another war." Dawn.com