Jumblatt: This will not be the last meeting with Assad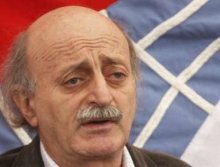 As Ya Libnan reported yesterday , Progressive Socialist Party leader MP Walid Jumblatt held a press conference on Thursday at his Clemenceau residence and commented on his Wednesday visit to Damascus, saying it is important to follow a political path that aims at supporting the Resistance as well as liberating occupied territories.
"The page of the past is forever turned," Jumblatt said, in reference to his previous attacks against the Syrian leadership.
He said that he discussed with Assad the possibility of launching the Lebanese-Syrian border demarcation process and suggested beginning with the territories that are not occupied by Israel.
He said he also discussed with Assad issues that dealt with Palestinian refugee camps both politically as well as their living conditions, however, he did not elaborate further.
Lebanon's stability is one of Damascus' top priorities, said Jumblatt, adding that Assad also wants to build trust between the two governments.
"This will not be the last meeting with Assad," the PSP leader said, adding that he will assign Public Works and Transportation Minister Ghazi Aridi – who is also a PSP member – to follow up on Lebanese-Syrian relations and to maintain constant contact with Damascus.
He also described his meeting with Assad as "very positive, frank and friendly," before expressing gratitude to all parties that "made my trip to Syria possible, namely Hezbollah Secretary General Sayyed Hassan Nasrallah."
Jumblatt also commented on Nasrallah's Wednesday interview with Al-Manar television, saying that the position of the Hezbollah chief on the Special Tribunal for Lebanon (STL) was positive, "because Nasrallah expressed his party's readiness to cooperate with the court."
Nasrallah confirmed on Wednesday night that the court did in fact summon 12 party members for interrogation in the murder of former Prime Minister Rafik Hariri. However, he said that they were summoned as witnesses and not as suspects.
"We must all look [for ways] to ensure stability that brings about justice," Jumblatt said.
Jumblatt arrived in Damascus to what was described as a "warm welcome" by Assad, local media said Thursday.
Jumblatt was accompanied by Nasrallah's political aide Hussein al-Khalil and head of Hezbollah's Coordination and Liaison Committee Wafiq Safa.
An Nahar newspaper on Thursday, citing Hizbullah media circles, said Khalil and Safa "worked under the guidance of Nasrallah to arrange the visit from A to Z."
Jumblatt returned home following the 90-minute meeting with Assad.
Jumblatt's visit to Syria was the first of its kind since 2004, since the relationship between Syrian President Bashar al-Assad and the PSP leader soured following the extension of former Lebanese President Emile Lahoud.
On the second anniversary of Hariri's Feb. 14, 2005 assassination, the Jumblatt branded Assad "the dictator of Damascus … a savage… an Israeli product ….a liar… and a criminal."
He had also blamed Syria for the assassination of his father Kamal Jumblatt in 1977.
On Aug. 2, 2009, Jumblatt quit from the ruling March 14 coalition he helped create and moved closer to the Hezbollah-led Opposition.
Jumblatt is well aware that his new stance is not popular within his own PSP party and the Druze community , but said " some times you have to swim against the tide".
He told Future TV following his press conference that he is determined to open a new page with Syria and advised PM Saad Hariri to do the same.