Suleiman: I don't take sides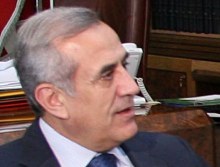 After weeks of silence over a campaign to overthrow him that was spearheaded by former minister Wiam Wahab , President Michel Suleiman said in an interview with As Safir that he has "made tough decisions" taking into consideration the balance between Muslims and Christians and all other political factions.
In remarks published Tuesday Suleiman said he is "not hesitant" and his decisions did not result from weakness. "I will always keep my consensual stance … I don't take sides. On the contrary, I tilt towards all Lebanese sides."
On Wednesday March 17 , Wahab a staunch ally of Syria attacked President Michel Suleiman and called on him to resign for allegedly failing to govern the country.
Following talks with Free Patriotic Movement leader Michel Aoun in Rabiyeh, Wahab said the president should resign "because after two years of rule we feel like we are in the last days of the presidency."
"The consensus president in Lebanon is not successful," Wahab said, stressing that he wasn't attacking the seat of the presidency but the president himself.
Suleiman stressed that he was holding onto his stance in demanding more authorities for the president. "I will renew my demand at the appropriate time. I used to demand and still seek for the authorities that would allow the president to use the red card and show it to violators if there were any."
Asked about Hezbollah, the president said: "We need the resistance and our need for it is still pressing."
About ties with Syria and President Bashar Assad, Suleiman said relations with Damascus were "special and strategic."
"Assad is an honest man and does not take sides with anyone," the president added.