Municipal elections may be delayed for another year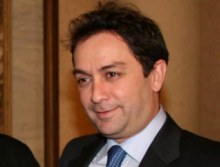 Interior Minister Ziad Baroud officially called on voters on Tuesday to take part in the municipal elections due this summer.
According to the Constitution, Baroud had to make the announcement before Thursday .
"A decision to hold the first phase of municipal elections in Mount Lebanon on May 2 has been sent to the official Gazette for publication," Baroud said.
Postponement is likely
According to Tuesday media reports the municipal elections, will either be held on time under the old law or postponed for one year after tying it to a reform package.
An-Nahar newspaper citing prominent political sources, said that the "basket of reforms" that had been suggested by one political side about a month ago was discussed at the Baabda Palace, Ein el-Tineh and the Grand Serail.
According to An-Nahar, there are calls for the postponement of municipal elections for one year in the event that amendments to the municipal electoral law were not approved by Parliament.
The reforms include:
Proportional representation
Administrative decentralization,
Absentee voting
Lowering the voting age to 18 years.