STL prosecutor: Speculation unfortunate, unhelpful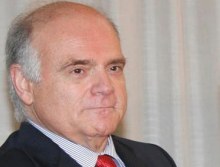 Special Tribunal for Lebanon (STL) Prosecutor Daniel Bellemare's office issued a statement on Friday dismissing the media reports as speculation on the tribunal's work, saying they are "unfortunate and unhelpful as they would only confuse the public."
The media attributed their reports to 'unidentified sources,' some were described as 'well informed sources' or 'sources close to the investigation.'
The statement added that Spokesperson for the prosecutor of the STL Radhia Achouri is the only one authorized to speak on behalf of the STL regarding its work.
"Nobody else is authorized to speak on behalf of the Office of the Prosecutor," the statement warned.
"Any unauthorized disclosure by anyone entrusted with the confidential details of the work of the prosecutor is a very serious matter, and those found to be in violation of this trust will be held accountable," said the statement.
"The Office of the Prosecutor (OTP) takes strong exception to any allegation or insinuation that it is deliberately leaking information to the press and strongly emphasizes that the communications policy of the Prosecutor is a disciplined and responsible one that places paramount importance on the integrity of the work of his Office and the process he is leading as well as on public confidence," the statement added.
"As a matter of principle, the Office of the Prosecutor does not argue its case in or through the media. If the Office wants to share information with the public, it does so publicly and on the record." The statement added
The statement said that one of the key priorities of OTP is to safeguard the confidentiality and the integrity of the investigation.
STL was formed by the UN to try the killers of Lebanon's former PM Rafik Hariri who was assassinated in 2005