Russia claims breakthrough in historic nuclear reduction agreement with US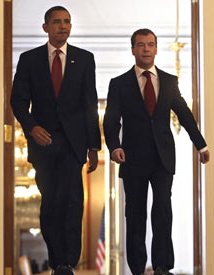 Barack Obama's ambitious goal of freeing the world of nuclear weapons won a significant boost tonight when Russia indicated that it had reached agreement with the United States on a historic nuclear arms reduction treaty.
Kremlin officials said that a document to replace the 1991 Start treaty had been agreed with Washington. A signing ceremony between Obama and Russia's president, Dmitry Medvedev, is likely to take place early next month in the Czech capital Prague, they said.
White House officials stopped short of announcing a done deal, but confirmed the US was "very close" to signing a new treaty with Russia. They suggested that the last remaining step was for the two presidents to agree a signing date.
"We are, I think very close to having an agreement on a Start treaty, but we won't have one until President Obama and his counterpart, Mr Medvedev, have a chance to speak," said White House spokesman, Robert Gibbs. He suggested that would happen within a few days.
A spokesman for the Czech president, Václav Klaus, said a date for the signing had been agreed but would be announced later. The Americans are likely to prefer 5 April, the first anniversary of Obama's speech in the Czech capital in which he outlined his vision of a nuclear-free world.
The treaty, which substantially reduces Russian and US nuclear arsenals and delivery systems, is a big achievement for Obama and his attempts to reset relations with Russia. Negotiators had been trying to reach agreement for nearly a year, and the previous treaty expired last December.
The breakthrough followed US secretary of state Hillary Clinton's visit to Moscow last week and last minute talks with Vladimir Putin, the prime minister. Putin had insisted there could only be a new treaty if the US linked nuclear reductions to its revised missile defence shield in Europe.
The White House's decision to site parts of its missile shield in Romania – and possibly Bulgaria – is known to have irked Putin. But he appears to have allowed Medvedev and Obama a mutual foreign policy success. Obama must now persuade sceptical Republicans to ratify the treaty.
One nuclear arms expert said the US and Russia may have amended the way nuclear missiles and launchers are counted to arrive at the figures agreed at a US-Russian presidential summit in Moscow last July.
Obama and Medvedev called for a reduction to between 1,500 and 1,675 warheads and 500 to 1,100 delivery systems including missiles and bombers. The expired treaty permits each side a maximum of 2,200 warheads and 1,600 launch vehicles.
No details had been published, but Yevgeny Myasnikov, a leading Moscow-based defence expert, said the new pact was likely to include a clause allowing the reductions to be reversible, so that both sides could reassemble nuclear warheads in an emergency. "There isn't much in the substance of this treaty," he said.
The treaty would however allow Russia and the US to discuss more significant further strategic nuclear cuts, he said. "I think it's a good start. Both sides benefit from this. But further progress will take time and effort."
Anne Penketh, programme director of the Washington-based, independent British American Security Information Council, agreed. "If you look at the actual treaty, they are not going to be cutting up weapons. They are just not going to be deployed. It is quite a modest treaty. It is important in what it says about US-Russian relations. It is a signal of the tangible improvement."
A treaty will provide Obama with a much-needed foreign policy success. He had hoped to have the Start treaty signed and ratified by the Senate before a high-profile nuclear review summit in Washington next month. He had also hoped to have ratification of a comprehensive test ban treaty in place, but that is unlikely this year.
A framework for the Start deal was agreed in Moscow last July, but final agreement has been held up by differences over the exchange of data on missile performance and defence systems.
The two presidents' remarks will be as closely scrutinised as the treaty text, for signs on the future of arms control.
"The question is: What do the presidents say about the next steps," said Daryl Kimball, the head of the Arms Control Association in Washington.
"The two sides share a common goal to pursue further nuclear arms cuts. A common path has not yet been established. I would hope the two presidents will say we will continue our consultations on further nuclear arms reductions."Advocates of multilateral disarmament hope this deal will quickly be followed by talks on a far more reaching treaty that will bring each sides total number of warheads to below 1000.
Each side may also make unilateral statements on the future of missile defence, which is not part of the treaty, but which held up its signing. Romania's agreement in January to host a new US missile defence system almost derailed the START talks.
The Russians could opt to declare a proviso that if the American missile defence scheme grew to the point that it infringed its vital national security interests, it reserved the right to withdraw from the new START treaty.
Some US senators have vowed to oppose ratification of the treaty if that happens, but arms control advocates point out that a similar declaration accompanied the original START.
John Kerry, the chairman of the Senate foreign relations committee said he discussed the agreement with President Obama yesterday was planning to hold hearings on the new treaty in the week beginning on April 4. Guardian