STL: Investigation of Hariri's assassination has entered a "decisive stage."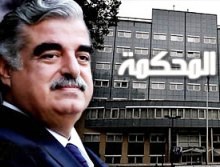 A high-ranking judicial source confirmed that the investigation of the assassination of former Prime Minister Rafik Hariri has entered a "decisive stage."
"We are moving ahead with indictments," the high-ranking official said in remarks published Wednesday Asharq al-Awsat newspaper .
Meanwhile, New TV said sources close to the Special Tribunal for Lebanon requested to summon six Hezbollah members for questioning .
Among those requested to be summoned were Abdul Majid Ghamloush, al-Hajj Salim, Mustafa Badreddine and Qassem Suleiman, according to New TV.
It said the investigation committee confirmed that Hezbollah was willing to cooperate with the international tribunal "which it welcomes in its southern suburbs bastion in order to find the truth."
STL prosecutor's spokeswoman Radhia Achouri has said that the investigation committee was "undertaking an actual 3D modeling of the Hariri crime scene to reconstruct the scene and whatever happened there using digital scanning techniques."
A U.N. tribunal based in The Hague was set up by a Security Council resolution in 2007 to prosecute suspects in the assassination of Hariri who was killed in a massive bomb explosion near Saint George Hotel February 14, 2005.
Achouri said the filming would be finalized within 10 days but denied it was linked to recent progress in the investigation.
"It is happening now because it is possible and has nothing to do with the actual progress of the investigation for the time being," she said.
"It was an issue of establishing the need. We deemed it necessary and can now afford to do it physically and in terms of resources," Achouri added.
Before the STL was set up, a U.N. commission of inquiry said it had found evidence to implicate Syrian and Lebanese intelligence officers in the Hariri murder, but there are currently no suspects in custody.
The murder has widely blamed on Syria. Damascus, however, denied any involvement.
In May 2009 the German magazine Der Spiegel revealed that Hezbollah is behind the assassination of Hariri.