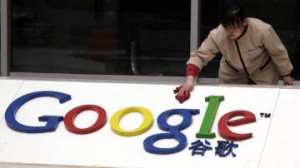 Google Inc.'s decision to brazenly challenge Internet censorship laws in China may encourage other firms doing business in the Middle Kingdom to adopt a bolder tone, industry experts say.
However, they say potential benefits of the rapidly-developing Chinese market mean that any emerging chorus of dissent against local laws — or perceived local favoritism at the expense of foreign players — could be slow to materialize.
Google said Monday that it's decided to re-direct traffic away from its google.cn search engine to Hong Kong-based google.com.hk, where Chinese speakers may access unfiltered search results. See related story on Google in China.
It remains to be seen how long Internet users in mainland China will retain access to google.com.hk. The site's servers are based in Hong Kong, a special administrative region of China.
Google had been negotiating with Chinese authorities for weeks over the possibility of offering uncensored search results, since announcing in January that it had been hit with a sophisticated cyber-attack originating in China. Such a move would run afoul of Chinese laws, which mandate filtering out results related to politically-sensitive topics.
Since launching google.cn in 2006, Google has voluntarily offered a filtered search service. The company has captured a significant share of the Chinese search market, though it still lags well behind Beijing-based Baidu Inc.
Google's move to stop censoring results drew a quick response on Monday, with state-run Chinese media citing an unnamed official at the State Council Information Office who called it "totally wrong."
Meanwhile a spokesman for the White House's National Security Council reportedly called the impasse between Google and the Chinese government disappointing.
"The U.S.-China relationship is mature enough to sustain differences," spokesman Mike Hammer reportedly said. U.S. Secretary of State Hillary Clinton has previously described China's Internet censorship policies as self-defeating.
"It's an amazing game of chess right now," said Jonathan Zittrain, a Harvard Law School professor and co-founder of Harvard's Berkman Center for Internet & Society.
Zittrain said the sheer boldness of Google's self-described "new approach to China" means that other foreign firms doing business there may be slow to follow. "There's no script for this," he said.
'Fight it out'
Google's move comes against a backdrop of increasing antagonism between U.S. and Chinese officials, Zittrain said. Companies may therefore simply wait for a clearer indication of how issues between governments will be resolved.
"They're all hunkered down right now, waiting for their parents to fight it out," Zittrain said of foreign firms operating in China.
Points of tension between the U.S. and China have included Internet censorship, onerous legal requirements for firms operating in China, and Beijing's valuation of the yuan.
In an open letter addressed to Treasury Secretary Timothy Geithner and Commerce Secretary Gary Locke published last week, a group of 130 U.S. lawmakers urged the administration to label China a currency manipulator. See related story on U.S. lawmakers' Chinese yuan letter.
Last summer, Locke sent a letter to his counterpart in Beijing, complaining about China's plans to require the so-called Green Dam Internet filtering program for personal computers — following an uproar among U.S. technology companies.
Other recent flare-ups between the Chinese government and foreign firms include the prosecution of Anglo-Australian mining giant Rio Tinto PLC's employees in China, for stealing commercial secrets and accepting bribes.
A survey released by the American Chamber of Commerce in China on Monday indicated that an increasing number of U.S. firms are being made to feel unwelcome.
"There are questions about the durability of Google's new position, and whether we've reached a tipping point in terms of western firms and their ability to navigate the political shoals of doing business in China," said Jacqueline Newmyer, president of Long Term Strategy Group, a Cambridge, Mass.-based defense research firm.
Newmyer said the more publicly-evident resentment amongst U.S. firms may in part be attributable to Google: "This wasn't something you saw coming to the fore, before Google's [China] announcement."
Previously, Newmyer said, U.S. firms "were not complaining, or they were complaining about human rights or intellectual property in a vague way."
Duncan Clark, the chairman of Beijing-based consulting firm BDA China, said Google's re-direction of Chinese users to a Hong Kong-based site may set a more practical precedent.
"Other companies may adopt this 'halfway house' measure for their legal structures," Clark said. However, Clark noted that the speed of access to google.com.hk from within China could be problematic, even without an official block — making Google's commercial future within China unclear.
Advocacy groups have applauded Google's decision to develop a work-around for China's censorship laws. In a statement released Monday, Reporters Without Borders called it "a bold move that other Internet companies must follow."
Microsoft Corp. , which released a revamped version of its search engine in China last year, has indicated that it has no plans to follow Google's lead by violating China's censorship policies. Marketwatch