US ambassador praises Suleiman 's leadership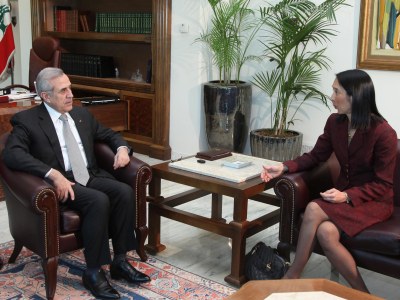 The US embassy issued a statement that President Michel Suleiman and US Ambassador to Lebanon Michele Sison met Monday at Baabda Palace, where she reiterated her "support for a strong and independent Lebanon" .
Sison conveyed to Suleiman U.S. "support for a strong and independent Lebanon" and for the efforts of the president and the Lebanese government "to build peace and stability" in the country, the statement said. The ambassador also praised Suleiman for his leadership and commitment to the Lebanese people.
"Sison noted the U.S. commitment to the ongoing diverse and successful partnerships between the United States and Lebanon in the areas of economic growth and military and law enforcement assistance, totaling over $1 billion since 2006," the statement said.
The ambassador also said that her country will not allow its efforts in the Middle East or with Syria to come at Lebanon's expense, nor will it defend Palestinian naturalization.
According to the statement, Sison expressed hope that the Lebanese government will continue to exercise its legitimate authority over all of Lebanon. Finally, she said Washington was fully committed to the full implementation of all relevant United Nations Security Council resolutions.