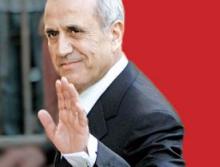 Lebanese President Michel Suleiman refused to respond to criticisms launched against him, during an interview with Al-Liwaa newspaper on Saturday.
On Wednesday March 17 , Former minister Wiam Wahab a staunch ally of Syria attacked President Michel Suleiman and called on him to resign for allegedly failing to govern the country.
Following talks with Free Patriotic Movement leader Michel Aoun in Rabiyeh, Wahab said the president should resign "because after two years of rule we feel like we are in the last days of the presidency."
"The consensus president in Lebanon is not successful," Wahab said, stressing that he wasn't attacking the seat of the presidency but the president himself.
Wahab said that he is not speaking for Aoun on this issue.
referring to Tawhid Movement leader Wiam Wahhab's call on Wednesday for the president to resign.
Sleiman told al Liwaa that the Lebanese recognize how his political, economic and security achievements have helped strengthen stability, promote prosperity and ensure development in the country.
The president also said that he had asked the cabinet following its Thursday session not to issue any statements on the controversy, "in order not to blow things out of proportion."
Suleiman said communication with Damascus is ongoing. He also reiterated his desire to establish relations that serve the Lebanese and Syrian people's interests.
After returning from his trip to Saudi Arabia earlier in the month, Suleiman said he called Syrian President Bashar al-Assad and discussed the regional situation and the formation of the national dialogue committee.