MP Nicolas: The presidency is off limits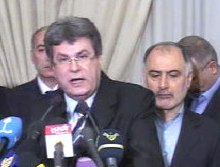 FPM MP Nabil Nicolas told New TV on Friday that Tawhid Movement leader Wiam Wahhab should not have called for President Michel Suleiman's resignation, adding, "The presidency is off limits."
Nicolas said that his bloc is not concerned with the criticisms made by Wahhab.
"Wahhab's statement is personal, and it does not reflect the [Change and Reform bloc's position]," he added.
He also said that some political figures "are exploiting Wahhab's move to [pretend to be] defending the presidency."
Wahab a staunch ally of Syria on Wednesday attacked President Michel Suleiman and and called on him to resign for allegedly failing to govern the country. Following talks with Free Patriotic Movement leader Michel Aoun in Rabiyeh, Wahab said the president should resign "because after two years of rule we feel like we are in the last days of the presidency."
"The consensus president in Lebanon is not successful," Wahab said, stressing that he wasn't attacking the seat of the presidency but the president himself.