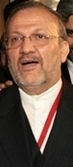 Iran has called on the Islamic World to stop Israel's use of force against Palestinian protesters enraged by Israeli provocations in East Jerusalem al-Quds.
Iranian Foreign Minister Manouchehr Mottaki made the request by forwarding official letters to Ekmeleddin Ihsanoglu, Secretary-General of the Organization of the Islamic Conference (OIC); Amr Moussa, the Arab League Secretary-General, plus Walid al-Muallem, Ali al-Shami, Nasser Judeh and Marty Natalegawa, the respective foreign ministers of Syria, Lebanon, Jordan and Indonesia.
On March 15, Israel reopened the Hurva Synagogue, as part of what Tel Aviv's Prime Minister Benjamin Netanyahu has claimed as Israel's "heritage." The Hurva Synagogue is a ruined synagogue on Hurva Square in al-Quds.
The move has sparked protests by Palestinians who took to the streets in the holy city and elsewhere in the West Bank to protest against the move, which is seen as a threat to the sanctity of the al-Aqsa Mosque, which is Islam's third holiest place.
Israeli occupation forces fired rubber bullets and stun grenades to disperse thousands of angry Palestinians.
Speaking today, Foreign Minister Manouchehr Mottaki said that "serious measures" were needed to stop Israel's inhumane and destructive acts at the holy site.
Mottaki said that the continued silence and inaction of Muslim and Arab countries would further embolden Israel in advancing its plans.
In his letter to Ihsanoglu, Iran's foreign minister called on the OIC to hold an emergency meeting on the issue.
He also suggested that Lebanon, as a non-permanent member of the UN Security Council, propose an initiative at the Council to stop Israel's destructive measures.
Despite Israeli claim that there is no political motive behind the move, the reopening of the synagogue is widely regarded in the Muslim world as part of Tel Aviv's ploy to Judaize al-Quds. Press TV
This error message is only visible to WordPress admins
Error: No connected account.
Please go to the Instagram Feed settings page to connect an account.