Taymour set to take over the Jumblatti leadership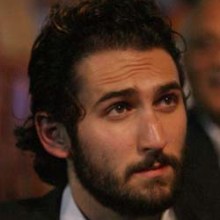 Taymour , son of MP Walid Jumblatt took his first official step toward becoming the Jumblatti leader by replacing his father in laying red roses at the tomb of his grandfather, the late Kamal Jumblatt to commemorate his 33rd assassination anniversary.
Walid Jumblatt, who took over the PSP leadership from his father, believes it is about time he hands over the leadership to his son.
"This is the first (political) appearance for the man who intends to steer the ship of the Jumblatti leadership," said Jumblatt as Taymour laid three red roses at his grandfather's tomb.
Kamal Jumblatt, founder of the Progressive Socialist Party, was assassinated March 16, 1977. Jumblatt accused the Syrian regime of Hafez al Assad ( father of current president Bashar al Assad) of assassinating his dad
On Saturday, Jumblatt told al-Jazeera satellite channel that Taymour will take over the PSP leadership with the help of PSP Secretary- General Sharif Fayyad.