Mexican tycoon Carlos Slim Helu , who was recently listed by Forbes magazine as the world's wealthiest man, will present a lecture at AUB entitled "The New Civilization of Knowledge and Technology" on March 17 at 3 pm.
The lecture will be held in Maamari Auditorium at the new Suliman Olayan School of Business, near the Green Field.
Slim, who is of Lebanese descent ( his father, Julian Slim Haddad, arrived in Mexico in 1902 from Lebanon) , is an engineer, businessman and philanthropist, whose holdings include companies engaged in telecommunications, finance, media, and a large number of industries.
He recently grabbed the top spot on the 2010 Forbes list of the World's Billionaires Americans to become the wealthiest person on earth with a fortune estimated at $53.5 billion, thus beating out Bill Gates and Warren Buffett. It was the first time in 16 years that the person on top of the Forbes list was not from the United States, nor Europe, and the first from an "emerging economy".
The billionaire has a substantial influence over the telecommunications industry in Mexico and much of Latin America. He controls Teléfonos de México (Telmex), Telcel and América Móvil companies. Carlos Slim currently serves as chairman of the Board of Directors of Impulsora del Desarrollo y el Empleo en América Latina, S.A. de C.V. (IDEAL); chairman of Fundación Telmex, A.C.; chairman of Fundación Carlos Slim Helú, A.C.; chairman of the Executive Committee of Consejo Consultivo de Restauración del Centro Histórico; and chairman of Fundación del Centro Histórico, A.C..
Slim studied engineering at the Universidad Nacional Autanoma de México. By the time he was 26 years old, his net worth was $40 million.
In 2008, Carlos Slim was nominated member of Research and Development Corporation Executive Board, a nonprofit research organization in the United States which offers assessment and solutions about commerce and politics, among other aspects, throughout the world. Al Bawaba.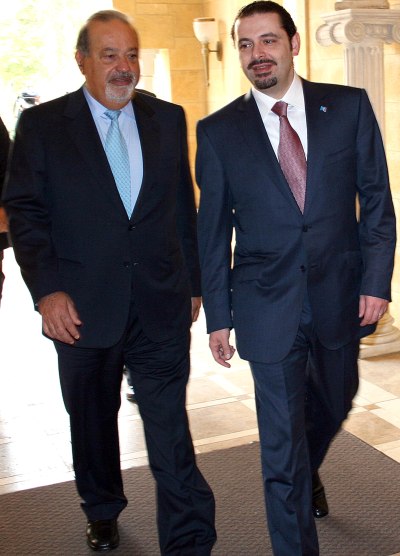 Carlos Slim Helu with Lebanese PM Saad Hariri who is also a billionaire who came in 536th on the Forbes list with $ 1.9 billion