Geagea: No state can co-exist with a revolution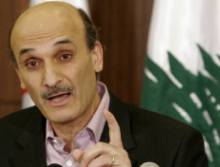 Lebanese Forces leader Samir Geagea criticized during an interview with As-Sharq radio station those who claim that "Lebanon should be defended by its state, people, army and Resistance " saying it is a combination that no history could tolerate.
"No state in the world could co-exist with a revolution," Geagea said.
Geagea said weapons outside the control of the state either in Palestinian camps or in bases outside the shantytowns or with Hezbollah are a sign of abnormality.
Geagea said the national dialogue is meant to discuss all weapons outside of the state's control, whether it be the Palestinian's or Hezbollah's arms.He added : "It would be better to continue with dialogue even if practical results were not achieved."
March 14 alliance:
In response to the recent concerted attacks by members of March 8 alliance , Geagea said
"Critics attempting to isolate the LF are also targeting the March 14 alliance",
Geagea said the annual March 14 alliance meeting set to take place at the Bristol Hotel on Sunday is a routine meeting that the coalition has held since 2005. Earlier in the week, General Secretariat Coordinator Fares Soueid said the March 14 alliance would re-launch a unified political vision during the conference.
Christian community
Geagea said that there have been various attempts throughout history to isolate the Christian church, but they have failed. He added that the Bkirki initiative undertaken by Maronite Patriarch Nasrallah Boutros Sfeir in 2007 to reach a consensus among Christians on a candidate to replace former President Emile Lahoud – did not fail, because the Christians are united by the national dialogue.
There are no personal conflicts among Christian parties, according to the LF leader. They just have different points of view , he said.