Ahmadinejad, Gates trade barbs in Afghanistan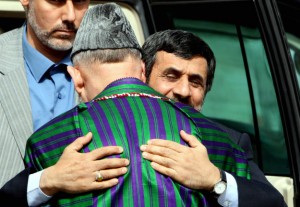 Iranian President Mahmoud Ahmadinejad and Defense Secretary Robert Gates traded barbs on Wednesday during briefly overlapping visits to Afghanistan, where Washington has troops at war but Tehran has growing clout.
Ahmadinejad, who arrived as Gates was wrapping up a three-day visit, told a news conference alongside Afghan President Hamid Karzai that U.S. and Western troops would never defeat terrorism by waging war in Afghanistan.
Gates said earlier in the week Iran was playing a "double game" in Afghanistan by being friendly to the government while trying to undermine the United States. He said on Wednesday he had passed those concerns on to Karzai.
Washington, which will have 100,000 troops in Afghanistan by the end of 2010, says it believes Iran provides some support for militants there, although not nearly on the same scale as in Iraq, another Iranian neighbor where U.S. troops are fighting.
The Afghan insurgency is mainly led by Sunni Islamists, who are long sworn enemies of Shi'ite Iran.
Tehran blames Western military intervention in Afghanistan for causing instability and Ahmadinejad turned Gates' earlier comment around.
"Why is it that those who say they want to fight terrorism are never successful? I think it is because they are the ones who are playing a double game," Ahmadinejad said.
"They are the ones who set the terrorists on their course and now they say: 'Now we want to fight them'. Well they cannot, it is impossible," he told a news conference with Karzai.
As if addressing Gates, he said: "What are you even doing in this area? You are from 10,000 km over there. Your country is on the other side of the world. What are you doing here?"
Shortly before the news conference started, Afghan security guards anxiously collected half-empty bottles of mineral water from reporters. One said it was in order to prevent anyone from throwing the bottles at Ahmadinejad.
"UPFRONT GAME"
Gates left Kabul shortly after Ahmadinejad landed. Before leaving he described the timing of the Iranian leader's visit as "clearly fodder for all conspiratorialists."
"I told President Karzai that we want Afghanistan to have good relations with all of its neighbors. But we also want all of Afghanistan's neighbors to play an upfront game dealing with the government of Afghanistan."
Iran has wide and growing influence in Afghanistan, especially the west of the country where it has important economic ties. Millions of Afghans were refugees in Iran during three decades of war, and a dialect of Iran's Farsi language is one of the two state languages in Afghanistan.
Karzai said at the news conference with Ahmadinejad "we assured our brothers in Iran that we do not want our soil to be used against our neighbors."
Iran was the only major regional country to reject an invitation to an international conference on Afghanistan in London in January.
Despite their suspicions, Western countries have praised Tehran's efforts in combating the drug trade. Iran has a serious heroin addiction problem, while Afghanistan produces nearly all the world's opium used to make heroin.
Karzai is due to fly to Pakistan later on Wednesday, meeting the leadership of another big neighbor. Reuters