Parliament committee to debate the Municipal Election bill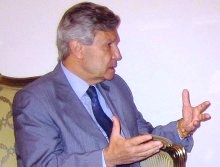 The parliamentary commissions has reportedly received the draft municipal electoral law. According to the Head of the Administration and Justice Commission MP Robert Ghanem this bill will be discussed on Wednesday.
The parliament has 40 days to either , adopt, reject or amend the bill for the municipal elections, which are scheduled to be held in June.
One of the items  in the bill is Proportional Representation , but many of the MPs are opposed to this amendment    specially in rural areas