Up to 300 feared dead in central Nigeria clashes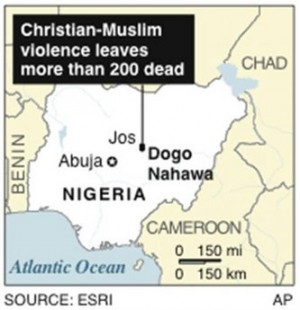 Nigeria's acting president Sunday ordered the security forces to hunt down those behind clashes involving Muslim herders and Christian villagers in which more than 300 people may have been killed.
The latest unrest in Nigeria's central Plateau state comes at a difficult time, with acting leader Goodluck Jonathan trying to assert his authority while ailing President Umaru Yar'Adua remains too sick to govern the oil-producing nation.
Villagers in Dogo Nahawa, just south of the state capital Jos, said Hausa-Fulani herders from surrounding hills attacked at about 3 a.m. (10 p.m. EST), shooting into the air before cutting those who came out of their homes with machetes.
A Red Cross official said at least two other nearby communities were also targeted, in an area close to where sectarian clashes killed hundreds of people in January, but that it was too early to give an overall death toll.
A Reuters witness counted more than 120 bodies — most lying in Dogo Nahawa, others taken to mortuaries in Jos — but Plateau State Commissioner for Information Gregory Yenlong said more than 300 people, including women and children, had died.
Jonathan put the security forces on red alert to try to prevent reprisal attacks spreading into neighboring states.
"Reports reaching us indicated marauding bands launched a flurry of attacks on certain communities in the state, causing considerable death and injury," Jonathan's office said.
"The Acting President … has directed that the security services undertake strategic initiatives to confront and defeat these roving bands of killers," it said in a statement.
Some of the bodies seen by the Reuters witness — including those of women and children — were charred, others had machete wounds across their faces. Aid workers said some had been shot.
"The shooting was just meant to bring people from their houses and then when people came out they started cutting them with machetes," said Dogo Nahawa resident Peter Jang, women crying behind him.
POLITICAL UNCERTAINTY
Four days of sectarian clashes in January between mobs armed with guns, knives and machetes killed hundreds of people in Jos, which lies at the crossroads of Nigeria's Muslim north and predominantly Christian south.
Jonathan deployed hundreds of troops and police to quell January's unrest, in which community leaders put the death toll at more than 400. Official police figures estimated the death toll from the clashes two months ago at 326.
Yenlong said the state government may consider extending a dusk-to-dawn curfew still in place after January's unrest.
It was not immediately clear what triggered the latest unrest, but thousands have died in religious and ethnic violence in central Nigeria over the past 10 years.
The tension is rooted in decades of resentment between indigenous groups, mostly Christian or animist, who are vying for control of fertile farmlands with migrants and settlers from the Hausa-speaking Muslim north.
The instability underscores the fragility of Africa's most populous nation as it approaches the campaign period for 2011 elections with uncertainty over who is in charge.
Yar'Adua returned from three months in a Saudi hospital, where he was being treated for a heart condition, a week and a half ago but has still not been seen in public. Presidency sources say he remains in a mobile intensive care unit.
Fears of a debilitating power struggle between Yar'Adua's inner circle, a northern elite keen to maintain its grip on power, and Jonathan — who is from the south — sprang up in the OPEC member state of 140 million people when the 58-year-old leader was flown back late at night and driven off by ambulance. Reuters