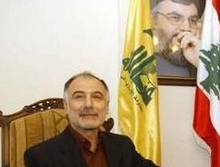 A  Hezbollah  minister said on Sunday that disarming Hezbollah was not "a subject for discussion," two days before Lebanon's national dialogue on defense strategy is due to resume.
"Some have implied that the dialogue session seeks to establish when Hezbollah will be disarmed," Administrative Reform Minister Mohammad Fneich, who is a key member of Hezbollah  , was quoted as saying by the state news agency NNA
"This issue is not a subject for discussion and will not be debated at the dialogue session," Fneich said.
Politicians from rival parties are due to meet Tuesday for a new session on defence strategy to be chaired by President Michel Suleiman.
The government of Prime Minister Saad Hariri has failed to resolve the thorny issue of Hezbollah's weapons since its formation in November, when it defeated a Hezbollah-led coalition.
The winning alliance headed by Saad Hariri won 71 seats in the 128-member parliament in the election against 57 for the opposition led by Hezbollah.
The Shiite movement has refused to disarm since the end of the 1975-1990 civil war and insists that its weapons are necessary to defend Lebanon against Israeli aggression and occupation.
The so-called national dialogue was launched in 2006, before the devastating Israeli war on south Lebanon, to determine the fate of the weapons held by the Shiite group.
But it has been delayed several times because of the country's successive political crises.
Hezbollah has participated in government since 2005 and has two ministers in the 30-member unity cabinet.
After Hezbollah fighters seized two Israeli soldiers in a deadly cross-border raid Israel waged a bloody 34-day war on Lebanon in the summer of 2006 .
The war claimed the lives of more than 1,200 people in Lebanon, most of them civilians, and more than 160 Israelis, most of them soldiers. middle-east-online.