Berri urges Arab Leage to reject call for indirect talks with Israel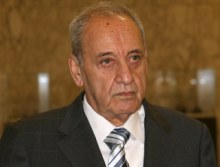 Speaker Nabih Berri's office issued a statement on Friday urging the Arab League to reject the Arab foreign ministers approval of the resumption of indirect Palestinian-Israeli talks.
He said "the League should follow the examples set by Lebanon and Syria in rejecting indirect negotiations with Israel."
Syria was conducting indirect negotiations with Israel , but the negotiations came to halt after Israel invaded Gaza.
Berri called for supporting the Palestinians in light of the recurrent Israeli threats.
He condemned Israel's actions on Friday "during which Israeli security forces used firearms when entered Jerusalem's Al-Aqsa Mosque, abused the worshipers and wounded dozens, including Sheikh Tayseer Tamimi , the Sheikh of the Al-Aqsa Mosque and the Chief Justice of Palestine. "