India Temple Stampede Kills 63, injures 100
At least 63 people were killed and 100 others injured Thursday in a stampede at a Hindu temple in the northern Indian state of Uttar Pradesh, the latest in a string of disasters that highlights the terrifying frequency with which pilgrimages turn deadly when religious fervor collides with India's appalling infrastructure.
A rush of devotees during the free distribution of food, utensils and clothes set the stage for the stampede, which was triggered when the site's main gate collapsed, said Satya Bhushan Pathak, additional superintendent of police in Pratapgarh district, about 650 kilometers (400 miles) southeast of New Delhi. Devotees had gathered at the temple for a ritual feast. Of the 63 dead, 26 were women and 37 were children.
It was the second deadly temple tragedy in the last three months in India, where every year tens of millions gather in small areas lacking the facilities to control big gatherings. In January, 10 Hindu pilgrims died in a stampede during a religious festival on the Ganges river in the eastern Indian state of West Bengal. The incident took place when hundreds of devotees tried to board a ferry to take them to the festival.
"Such accidents can be called a normal phenomenon in a country where there are too many religious followers and public facilities are inadequate," said Prof. Chintamani Mahapatra at New Delhi's Jawaharlal Nehru University. He added that part of the blame also goes to inept law enforcement agencies that fail to control such disorderliness.
In 2008, a total of 371 people were killed in stampedes in two different Hindu temples, one in the western state of Rajasthan, the other in northern Himachal Pradesh state. In 2005, a fire and stampede at the Mandhar Devi hilltop temple in the western state of Maharashtra left 250 dead.
India's worst stampede was in 1954 when more than 500 men, women and children were killed and over 2,000 injured in a stampede of pilgrims seeking to wash away their sins in the sacred waters at the confluence of the Ganges and Yamuna rivers in the city of Allahabad in northern India. Three million people had thronged the river bank on the occasion of the great Kumbh bathing festival.
About 200,000 people were present at Thursday's community lunch at a popular Ram Janaki temple owned by a Hindu holy man, Jagadguru Kripalu Ji Maharaj. The lunch was held to mark the anniversary of his wife's death. Indian television footage showed angry villagers and local people throwing stones at the temple authorities and police officials.
Mr. Pathak said the injured had been rushed to hospitals for medical treatment. Rescue teams were being sent to the disaster site with security personnel. The government of Uttar Pradesh has also ordered an investigation into the tragedy, Mr. Pathak said.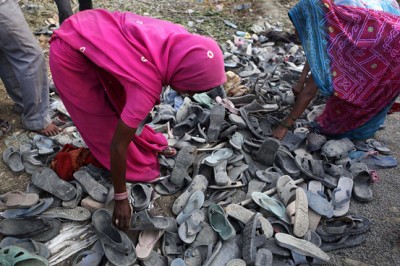 Women looking for missing relatives scan sandals after a stampede at a temple in Kunda, India, on Thursday.WSJ