U.N. Security Council is ready to tackle new sanctions against Iran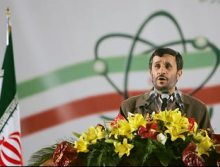 The president of the U.N. Security Council said on Tuesday it was ready to tackle proposals for new sanctions against Iran over its nuclear program, while U.S. diplomats worked to persuade China that action is needed.
Gabon's U.N. Ambassador Emanuel Issoze-Ngondet, president of the Security Council for March, said the Iranian nuclear issue was not on the agenda of the 15-nation panel this month, but council members might still hold a meeting on it.
"We think the question could come to the table" in March, Issoze-Ngondet told reporters through an interpreter. "But right now we are waiting. We're following the process that's ongoing. We're waiting for the right time to bring the Security Council to deal with it."
Speaking on condition of anonymity, Western diplomats told Reuters the United States, Britain, France and Germany have prepared a draft proposal — which they hope China and Russia will support — for a fourth round of sanctions against Iran for defying U.N. demands that it stop enriching uranium.
If the four Western powers win the support of Russia and China on a draft proposal, negotiations on the first new U.N. sanctions resolution in two years could begin immediately.
The four Western powers had hoped to secure an agreement among the six as early as this week, so they could begin discussing with the full Security Council. But it has been difficult getting China to negotiate, the diplomats said.
Originally U.S., British, French and German officials had hoped the council could vote on a new sanctions resolution by the end of March, but some diplomats say they worry negotiations will run into April, mostly because of China's refusal to negotiate or make its views known on the issue.
As permanent council members, China and Russia hold veto power, as do the United States, Britain and France.
U.S. AND CHINESE DIPLOMATS MEET
In Beijing, U.S. Deputy Secretary of State James Steinberg and another top U.S. official planned to meet with Chinese diplomats to discuss ways of dealing with Iran and North Korea in meetings Washington hopes will ease tensions with China.
Steinberg is the most senior U.S. diplomat to visit Beijing since a flurry of disputes in January and February over Internet censorship, trade, arms sales to Taiwan and Tibet unsettled ties with China.
China and Russia have close business ties to Tehran. Unlike Beijing, Moscow has indicated it is willing to support further punitive measures against the Islamic Republic, which rejects Western allegations that its nuclear program is a cover for developing the capability to build atomic weapons.
Both Russia and China advocate further dialogue with Iran.
The Western powers' proposed sanctions would target Iran's Islamic Revolutionary Guard Corps and expand a U.N. blacklist to include more individuals, banks and other firms subject to asset freezes and travel bans, diplomats said.
Among the blacklist targets is Iran's central bank.
France proposed hitting Iran's oil and gas industries. Washington, diplomats say, has proposed less stringent steps, such as a ban on new investments in Iran's energy sector.
Russian Foreign Minister Sergei Lavrov made clear on Tuesday that Moscow had not abandoned diplomatic efforts without resorting to sanctions to persuade Tehran to comply with U.N. demands to freeze sensitive nuclear activities.
Western diplomats say they hope to secure a yes vote from Beijing for a sanctions package, though it might have to be more symbolic than painful for Tehran.
But they also said it was possible China would only agree to abstain, which would avoid a Chinese veto but would send the message to Tehran that Beijing is not on board.
Security Council diplomats say that non-permanent council members Brazil, Turkey and Lebanon were expected to either abstain or vote against steps that would punish Tehran.
The first two Iran sanctions resolutions were adopted unanimously in 2006 and 2007. The third was approved in March 2008 with 14 votes in favor and an abstention by non-permanent council member Indonesia.
Canada's Foreign Ministry said Ottawa would use its presidency of the Group of Eight leading industrial nations to press for new U.N. sanctions against Iran.