Hariri in Doha to bolster ties with Qatar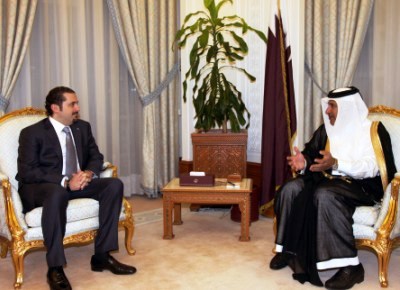 Lebanon's Prime Minister Saad Hariri arrived in Doha Qatar today on a two-day official visit and held upon arrival talks with his counterpart Prime Minister and Foreign Minister Sheikh Hamad bin Jassim bin Jabor al-Thani .
The talks were attended on the Lebanese side by PM's Adviser for Foreign Affairs Dr. Mohamed Shatah, former minister Bassim al-Sabaa, Director of the PM's office Nader al-Hariri, and Lebanon's Ambassador to Qatar Hassan Youssef Saad. The two sides reviewed the ties of co-operation between the two countries and means of bolstering them in all domains. Later, the Qatari Premier hosted a dinner banquet in honor of Hariri and his accompanying delegation.
The 2 leaders held a joint press conference during which Hariri voiced concerns over the Israeli threats against Lebanon.
"We are keen to carry out all necessary communications to protect Lebanon from the dangers of these Israeli threats," Hariri said .
Sheikh Hamad commended the special relations between Lebanon and Qatar. He added that he agreed with Hariri to bolster economic and investment ties.
The Qatari PM noted that he and Hariri would chair a Beirut meeting of the joint Lebanese-Qatari committee in the spring to discuss economic issues.
Regarding Iran's nuclear program Sheikh Hamad said "the issue should be resolved through direct diplomatic talks. The fears and opinions of countries in the region should be taken into consideration regarding the Middle East peace process", he added.
"Qatar's stance is clear. We support calm and peace as well as resolving issues diplomatically and through negotiations," he said.