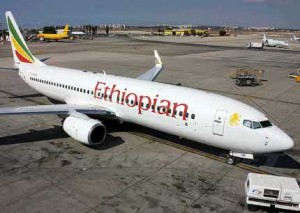 By : Joel Siegfried
There are a barrage of statements and counter charges by Ethiopian Airlines CEO Girma Wake, who accused Lebanese authorities on Wednesday, February 24 of making misleading comments on the cause of the Ethiopian Airlines flight ET409 crash last January 25 shortly after taking off from Beirut (BEY). He is supported by Diriba Kuma, Minister of Ethiopian Transport and Communication. Disagreeing are Lebanese Public Works and Transportation Minister Ghazi Aridi with Information Minister Tarek Mitri, both dismissing sabotage and blaming the flight crew for not following instructions by Lebanese Air Traffic Control.
Into this mix are selective leaks of a preliminary report by BEA, an agency of the French government charged with technical data analysis.
The Lebanese newspaper As-Safir, claims to have seen findings by the disaster investigators, suggesting that the Ethiopian pilot lost control of the plane moments before it plunged into the sea off the coast of Naameh, south of Beirut.
According to As-Safir, the preliminary report allegedly states "Navigation authorities in Rafik Hariri International Airport and other Lebanese authorities were freed from responsibility. The crash was attributed to a 'human error committed inside the cockpit'."
Such rhetoric, by all sides, are neither truth nor facts. Instead, they may be preliminary maneuvering to influence public sentiment, forestall lawsuits, deflect responsibility, and encourage out of court settlements.
The International Civil Aviation Organization (ICAO), a UN agency based in Montreal, Canada, which by agreement of its member nations on aircraft accident investigation protocol, states in ICAO Annex 13, Chapter 3, Article 3.1 that "the sole objective of the investigation of an accident or incident shall be the prevention of accidents and incidents. It is not the purpose of this activity to apportion blame or liability."
To learn more about how blame in such cases are determined, as well as the legal rights of accident victims and their survivors, the Airlines/Airport Examiner contacted Stewarts Law LLP in London, England, one of the leading litigators and experts in the field of aviation law. According to a fact sheet by the firm, "In 2008, Stewarts Law represented over 20% of families involved in aviation accidents worldwide, promoted the highest standards of safety, and recovered more than $250 million U.S. dollars for their clients."
Partner and Head of the Aviation Department of that firm, Attorney James Healy-Pratt, answered our questions in great detail, along with an analysis of potential causes. He speaks from his experience both as a lawyer, and a pilot who has flown Robinson R22 and R44 helicopters, and is currently undergoing certification and type rating for other advanced helicopters. He is also a member of the New York Bar, and the Association of Trial Lawyers of America. Here is a summary of his responses.
Q. Mr. Healy-Pratt, specifically on the ET409 incident, can you offer any theories, or information on the possible causes of this tragic event, and your expectations for a just and equitable settlement?
"There are a number of factors that may have affected the aircraft. In our experience, accidents almost always occur because of a number of factors combining together, rather than a single cause. Potential factors to consider include:
1. Meteorological Factors
These include lightning and turbulence. There have been reports that the aircraft was struck by lightning several times prior to impact. Turbulence alone may have been a contributing factor, particularly if the aircraft encountered a storm cell. While it does not usually cause crashes, it can greatly increase the workload on a pilot.
2. Spatial Disorientation
Spatial disorientation can occur during steep banking or acceleration and is particularly dangerous in night-time and bad weather conditions. This disorientation can result in pilots' perception disagreeing with reality. In these states, if not corrected, pilots can lose control of an aircraft.
3. Engine Failure / Technical Problems
Reports of a fire may indicate that the aircraft suffered engine failure. Aircraft are designed to be able to fly on only a single engine, however if this was complicated by other factors, control may have been lost.
4. Failure of the spoiler actuators
An accident with very similar facts to the Ethiopian Airlines accident is Kenya Airways Flight KQ507 in 2007, where a Boeing 737-800 crashed shortly after takeoff in night-time and bad weather conditions. We were instructed by families in that accident to seek answers and pursue claims for compensation. No accident report has been released. We have commenced litigation in the US as a result of our concerns that the spoiler actuators, hydraulic pumps which control the spoilers, may have jammed or asymmetrically deployed leading to the loss of control of the aircraft."
Q. You didn't mention the evidence which we uncovered from independent reliable sources of a possible radical maneuver to avoid collision with a second aircraft, namely Ethiad EY533, inbound from Abu Dhabi International Airport (AUH), after ET409 was given clearance to return to BEY with engine problems that developed on the departure climb out. Would you care to comment?
"Thanks for this. It is an interesting potential cause and spotting the start of the accident sequence is critical. There is a school of thought that the ET crew lost situational awareness during the course of an extended maneuver."
Q. In determining compensation resulting from any aviation accident, how does responsibility by parties who may have contributed to the accident affect the assignment of damages?
"Following any international aviation accident there are a number of tiers of potentially liable parties.
The airline is liable under international conventions (the Warsaw Convention, the Warsaw Convention as Amended by the Hague Protocol, and the Montreal Convention). Their liability is absolute which means that they are liable to pay compensation to the relatives of deceased passengers. The amount of that compensation will depend upon three primary factors:
1. The economic loss suffered by the dependents: this principally depends upon how much dependents were dependent upon the deceased passenger and how much the deceased passenger earned.
2. Which of the Conventions applies: The Warsaw Convention and the Warsaw Convention as Amended by the Hague Protocol contain liability limits. The Montreal Convention is effectively unlimited.
3. The law that is applied to calculate the compensation: Different jurisdictions calculate compensation due to dependents in a different manner. The choice of jurisdiction that should be used to calculate the compensation is set out in the Conventions. Essentially this jurisdiction is chosen by the family of the deceased passenger from one of the following: the domicile of the airline; its principal place of business (if different); where the ticket was bought; or for cases governed by the Montreal Convention, the domicile of the passenger."
Thank you, Mr. Healty-Pratt. Due to editorial limitations on the length of our dispatches, we will continue this discussion in our next report.