US: Syria's ties to Iran undermining its position in ME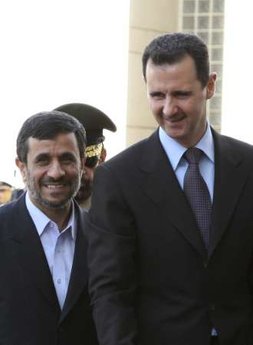 Damascus' close relationship with Iran is undermining Syria's position in the Middle East, the US State Department said Thursday, as Iranian President Mahmoud Ahmadinejad visited the Syrian capital.
State Department spokesman PJ Crowley told reporters that the United States has expressed concerns to Syrian President Bashar Al- Assad about his country's relationship with Tehran.
"This is ultimately a decision that Syria has to make," Crowley said. "But I think as President Assad assesses Syria's long-term interest, he need only look around the region and recognize that Syria is increasingly an outlier."
Crowley said that the US wants "to see Syria play a more constructive role in the region, and one step would be to make clear what Iran needs to do differently. And, unfortunately, there was no evidence of that today."
Ahmadinejad and Al-Assad held a joint press conference earlier Thursday. The Iranian president lambasted US ally Israel, declaring "the Zionist entity is heading for disappearance."
For decades, Washington has been concerned that Iran uses Syria as a conduit to support Hezbollah and Hamas, two groups regarded by the United States as terrorist organizations.
US Secretary of State Hillary Clinton said during a congressional appearance Wednesday that there is a "slight opening" for improved US-Syrian relations, but she wanted to see Damascus "begin to move away" from its relationship with Iran she said was "deeply troubling to the region as well as to the United States."
Clinton cited recent visits by US officials and congressional delegations to Syria as positive developments, along with the naming of a US ambassador to Damascus to end a five-year absence.
Syria still must provide greater cooperation in stabilizing Iraq, stop interfering in Lebanon, end support for Hezbollah and Hamas and resume peace negotiations with Israel, she said.
The White House announced February 17 that it had nominated Robert Ford to become the first ambassador to Syria since the February 2005 assassination in Beirut of former Lebanese prime minister Rafik Hariri. Suspicions of a Syrian role in the slaying prompted the Bush administration to recall the ambassador.
Syria denied any involvement in the Hariri slaying.
The nomination of Ford, a veteran of Middle East diplomacy, is awaiting Senate approval.ArabNews